Mark J. Rebilas-USA TODAY Sports
Who is the best pitcher in the American League? A new pitcher has inserted his name into the conversation in impressive fashion.
When you think of the best pitchers in the American League, a few names undoubtedly come to mind. Felix Hernandez (and his changeup) stands out among the best and most pair him with either Chris Sale or Corey Kluber, due to their devastating strikeout numbers. Heck, you can make the case that David Price or a healthy Yu Darvish could outpitch nearly any hurler in the league. But this season, we've seen the arrival of another who will likely be at the top of the league for years to come, and it's about time that he starts getting a bit more recognition. Representing the impressive Tampa Bay pitching factory, Chris Archer may start the 2015 All-Star Game for the American League, and deservedly so: Archer currently sports MLB's 4th best WAR for a pitcher, an ERA that hovers around 2.00, and a K/9 that trails only Chris Sale and Clayton Kershaw. Where did Archer come from? How does he get all those swings and misses? Well, a small tweak in pitch selection elevated Archer from "very good" to "elite".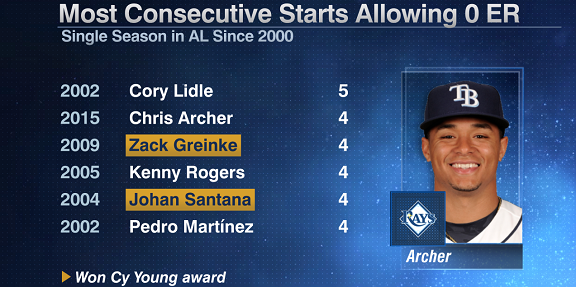 Chris Archer's rare story is one of gradual steps that culminate in greatness. In 2013, the righty entered the league with a pedigree and impressed in his first full season. Finishing third in ROY voting, he amassed a 3.22 ERA and allowed only 2.7 walks per nine innings. Still, it wasn't all rosy. His underlying numbers showed that the rookie got lucky and his ERA probably should have been higher—he posted a 4.07 FIP. Last season, he was back at it again. He cut his HR/9 rate in half, upped his strikeout rate, and, in the end, he posted a 3.33 ERA over a full season with a FIP that was perfectly aligned with his ERA. Pundits around the league began to notice, but only in fleeting glances. Now, at only 26, it seems that Archer has finally flipped the 'dominate' switch. 

How Did He Make The Leap?

So, what is the pitching change that Chris Archer made? Well, let's take a look at his pitch selection. Below, you will see the use of his arsenal in 2014 and then again in 2015:

The change is so apparent that the colors jump off the page! In 2014, Archer threw a lot of two-seamers (coded here as sinkers); it was actually his most heavily utilized pitch, and the only time that another pitch came close was his slider usage when he notched two strikes on hitters. In 2015, this couldn't be further from the truth. Archer essentially ditched his two-seamer all together, dropping its usage by over 40%. Yes, while most pitchers try to become "four-pitch pitchers", Archer embraced the opposite philosophy and this simplicity appears to be the key to his success—he's basically only thrown his four seamer and slider in 2015. And its in a deliberate manner; Archer grooves high heat for his first pitch over 50 percent of the time to righties and almost 65 percent of the time to lefties. That's miraculous. And his out pitch has become absolutely clear: he throws his slider nearly 60% of the time when he gets to two strikes on a batter. Maybe the most key is that he throws it to BOTH lefties and righties and gets the same devastating result. 

Take a look firsthand. 

                                                He makes both Ortiz…

                                               …and Travis look ridiculous. 
And he does this regardless of which side of the plate they stand on. Take a look at what that slider does statistically:

That 22.18 whiff percentage is no joke. For frame of reference, Clayton Kershaw's curveball has a whiff percentage of 23%. Felix Hernadez's changeup nets a 21% swing-and-miss rate and Max Scherzer's slider racks up 25% whiffs. That's some truly elite company. As for the numbers:

Against LHB:                                            Against RHB:
.154/.202/.048, 39 K's                            .162/.243/.081 40 K's

Interestingly, his slider helps neutralize lefties, negating the need for a changeup that most righties employ. But overall, against both righties and lefties, he stops batters from generating any power and makes them look like minor leaguers; Archer's slider may simply be the best pitch in the league. 

What Make His Slider So Good?
Well, I showed you the .gifs and I showed you the results, but lets take a quick peak at the pitch itself! 

To wet your appetite, take a look at this graphic:

What you see here is the velocity of Archer's four seamer and his slider. From 2014-2015, his fastball velocity saw a small bump, from 95 to 96 MPH. But more importantly, look at the huge jump in slider velocity. Since throwing the slider more, Archer is also throwing the slider harder. His release speed that averaged around 86 MPH spiked all the way to up to almost 89 MPH. That's the 4th hardest slider among starters in the American League and 7th hardest in all of baseball. Combine that with the third hardest fastball in the AL, and you have a deadly combination of high heat that can get out both righties and lefties. 

In reality, the movement is pretty standard. It has about three inches of run and breaks away from hitters, but what's impressive is that the movement is constant for both lefties and righties. Here is further proof that he can throw the ball on the outside part of the plate to opposite and same-side hitters. The slider's effectiveness comes with how much control he has with the pitch. It's just a tough pitch to hit. He doesn't walk batters, and he keeps both his slider and his fastball in and around the zone. Nearly 50% of his sliders are in the zone and the percentage of fastballs that he throws in the zone is pushing 60%. Check out the heat map:
He is getting to two strikes in the count an incredible amount and batters can't hit his pitches, despite them being in and around the zone, so they swing through them.

Joe's Conclusion

In then end, Archer has two excellent pitches. His slider is one of the best in the Majors and his fastball is the perfect foil. It's important to note that Chris Archer throws the second-most sliders in the league. Sliders are devastating, but they put a lot of pressure on pitcher's elbows. That usage is worth watching going forward, as it could lead to injury. Still, all in all, Chris Archer has clearly taken the leap to the elite tier of pitchers in the Major Leagues, and, if I had a vote, he would have my nod to start the All-Star Game for the Junior Circuit. 

Edited by John Ray.
SQuiz
Which of the following pitchers never played for the Tampa Bay Rays?
Created 7/5/15
Chris Archer
David Price
James Shields
Shelby Miller