Anthony Gruppuso-USA TODAY Sports
In his first full season with the Boston Celtics, Crowder is developing a role nobody saw coming.
On December 18, 2014, superstar Rajon Rondo was shipped from Boston to Dallas as part of a package deal.  Jae Crowder was sent from Dallas to Boston along with Jameer Nelson, Brandon Wright and a pair of draft picks in return. This deal marked the start of a rebuilding period in Boston that had loomed ever since Pierce and Garnett were moved to Brooklyn. Yet nobody could've expected that the Celtics would be getting an irreplaceable piece of their future as part of the deal.
Since entering the league in 2012 out of Marquette, Crowder made a name for himself as a physical small forward, who had the size and strength to defend, but struggled to score in bunches as he never averaged over ten points a game.  The script has been flipped since he came to Boston, as he has become one of the most valuable two-way players in the NBA, boasting an improved three point shot.
Last year, his defensive rating was 103.1, which has dropped to 99.7 this year. This number stands out as Crowder spent 57 games with the Celtics last year, and only started 17, which shows that he was rarely tasked with defending the other team's best scorer, or being relied on for extended period of time as a starter. He currently ranks 14th in the NBA in defensive win shares, sandwiched between former MVP's LeBron James and Steph Curry. However, it isn't just the physical presence on defense that has in vaulted Crowder to one of the Celtic's most valuable players.
In Crowder's first year, he shot 32.8% from three and a lowly 29.3% from three last year, yet is now shooting 36% from three. The improvement in just the past year can be seen below.
While 36% from three is not startling, his numbers were bogged down by a slow start, as he has recently been a sizzling three point shooter over the last two months.  Not only is Crowder focusing on being a three-and-D player, but is also shooting at a much more efficient rate.
Crowder's improved shooting from three has raised his true shooting percentage to 57.4%, a significant improvement for a player who possesses a 53.5% true shooting mark. Crowder's current percentage ranks right outside the top 20 in all of the NBA. Also, his eFG% (52.8%), which is also right outside the top 20 in all of the NBA (the 20th mark is 53.8%).  

The improved stroke, along with his continued physical defensive prowess, has vaulted Crowder into some elite company. Just over a week ago, Crowder was one of nine players in NBA with an Offensive Real Plus Minus (RPM) over two and a Defensive RPM of over two as well.  

Though his numbers have dipped a little below, a stat this impressive midway through the season displays the versatile value that Crowder provides for the Celtics, as well as where he slots amongst the best in the NBA. Improvements like these are reasons why he is getting national recognition and being voted by some as the most underrated player in all of the NBA. This individual development has provided significant value as well as flexibility for one of the East's most improved teams.
Crowder is averaging 14.3 points per game/1.9 assists/5 rebounds and 1.8 steals per game, which aren't necessarily numbers that jump off the page. Yet, his three point ability spreads the floor for the Celtics, allowing space for their aggressive guards to attack the hoop.  Also, his ability to play the three, four, and sometimes five allows the Celtics to try out different small ball lineups, which are some of their more effective lineups.  
His ability was on display in the Celtics' win against the Orlando Magic, as he was able to recover to block Tobias Harris and then sprint up the court for the smooth dish to Amir. Observe: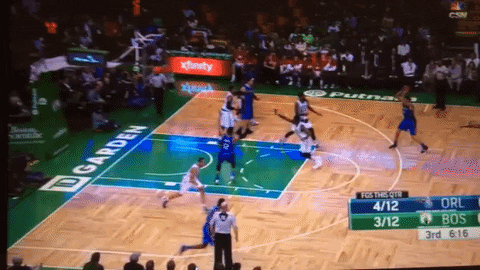 and This play perfectly captures Crowder's ability to be a leader on both ends of the court, as he is often tasked with guarding the other team's top scorer on one end (along with Avery Bradley) and being a facilitator and finisher on the offensive end. He has stepped into this role and even flourished on offense as a shooter and a finisher, as he is shooting 67% from within the restricted area, displaying some of the league's best finishing. This number compares well to All-Stars Steph Curry, Paul George and Kawhi Leonard who shoot 65%, 57% and 71% from the restricted area.  
After suffering a sprained knee in the 2015 playoffs near the end of a four-game sweep courtesy of the Cleveland Cavaliers…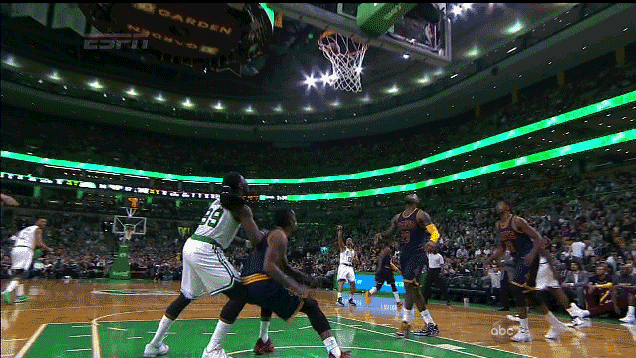 …the outlook for Crowder's contract negotiations became a lot bleaker. Sadly, this injury most likely prevented Crowder from getting some great money in this market, and he agreed to a 5 year/$35 million deal, which is the same amount per year as Charlotte Hornets swingmen Jeremy Lamb, who only plays 21 minutes a game. In a lucrative market, being able to own a unique player like Crowder for four more years provides a lot of flexibility for the Celtics as they move forward in their rebuilding process.  
While Crowder's statistics have improved immensely, the his heart at the epicenter of the Celtics' physical defense can never be measured.  However, after looking at all the stats as well as seeing his presence defensively, it seems fit to ask:
Edited by Joe Sparacio, Jacob Greenberg.
SQuiz
Where did Jae Crowder go to college?
Created 2/2/16
Syracuse
Utah
Marquette
Michigan State