Bill Streicher-USA TODAY Sports
Former Duke superstar J.J. Redick is quietly having a career year out in L.A.
J.J. Redick and the word silent don't seem to mix at all, especially after the constant media attention and hatred that surrounded him his whole college career.
More recently, he entered uncharted territory by joining the media as an active player with his own weekly podcast on The Vertical.
However, the coverage of his success and growth this season has been silent, and that doesn't seem fair to some, including CBS Sports' Matt Moore.
My colleague Tom Piccolo wrote a great piece on Redick's emergence two months ago, but it seemed unfair to not touch upon Redick's continued improvement as a shooter and his growth in probably the last place you'd expect: defense.

In a recent podcast as part of The Vertical, Redick claimed:
"To last in this league you have to be a worker."
To an outsider, that might seem like a trivial claim. But it was clearly a statement of intent for Redick, who has improved drastically as a defensive player.
In the 2013-2014 season, J.J. Redick posted a defensive differential of +2.1, indicating that opponents FG% was 2.1% better when Redick was guarding them. Last year, Redick had a differential of -1.1, but it now stands at -7.3, holding opponents to an astounding 36.4% shooting. This differential compares to some of the league's best, such as vaunted defender Kawhi Leonard (-5.1 differential) and perimeter stopper Tony Allen (-3.4 differential). Redick's differential is 3rd best in the league among players who defend eight or more shots per game, behind only Draymond Green and LeBron James.  
Though his defensive growth has been impressive, it is nowhere near the best part of his game.
Thus far, Redick is averaging 16 points per game on 47.4%/48.1%/87% splits. Yes, he is shooting better from three than he is from two point range, while also creeping close to the 50/40/90 club. If he maintains his league leading 48.1% from three, he will finish with one of the eight best three point percentages of all time.
Redick has always been known for his shooting since his college days, but it has reached new heights this season. As a career 40.9% three point shooter, his 48.1 mark is the highest of his career, even while taking the third most threes per game of his career. His efficient percentages have led to him being third in the league in true shooting percentage and sixth in effective field goal percentage.
Due to these improvements, Redick has become one of the most valuable assets to one of the league's most electrifying offenses. Similar to how Ray Allen was used in the Boston Celtics alongside Rondo's brilliant passing, Doc Rivers has Redick zipping through screens and using misdirection in order to find constant open looks.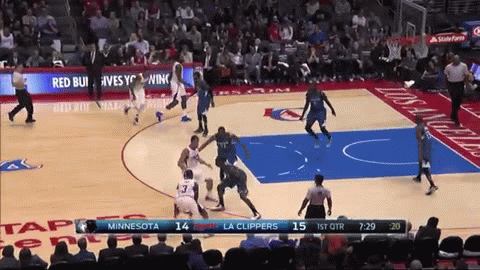 Yes that Rondo pass is absurd, but moving on…
While Redick is great at running off of screens, he can be most effective when working opposite the pick and roll. When Chris Paul curls off the screen and attacks the hoop, with DeAndre Jordan or Blake Griffin barreling towards the rim, defenses are forced to suck in, as everyone is worrying about being on the wrong end of a highlight dunk. While that occurs, Redick is often moving around the arc opposite of where the ball is, understanding that Paul will find him, as seen here. His ability to spread the floor allows the Clippers front court duo to dominate the paint, while Chris Paul can surgically operate the offense. Spacing can never be talked about enough and is incredibly important to the Clippers offense as they have a rating of 114.6 with Redick on the court and a lowly 100.4 with Redick off the court. This can be attributed to his versatility within certain lineups, which can be seen below.
The Clippers four best 3 man lineups in terms of field goals made compared to opponent's field goals made.
The Clippers two best 2 man lineups in terms of field goal percentage compared to opponents' field goal percentage.
What's the one common theme with each of those lineups? Redick. His numbers and defensive growth are admirable, as he has reshaped from a superstar to a hard working role player. It's hard to say what's most surprising about Redick: How valuable he's become, or the fact that he's one of the most likeable guys the NBA has to offer. 
All stats courtesy of NBA.com/stats and basketball-reference.com.
Edited by Justin Peroff, Brian Kang.
SQuiz
What pick was J.J. Redick drafted?
Created 2/8/16
4th (1st round)
11th (1st round)
23rd (1st round)
39th (2nd round)