0
NBA
An Alternative Fact Guide To The NBA Coaches' All-Star Selections
by
27 January 2017, 12:25 PM
Joel Embiid of the Philadelphia 76ers Wonders Where It All Went Wrong. John Geliebter - USA TODAY Sports
Where did the coaches go wrong in their NBA All-Star selections?
The basis of telling someone an "alternative fact" is lying while attempting to convince your audience  that what you are saying is not a lie. For instance, "these are not the droids you're looking for" is probably the original alternative fact. An NBA example might be something like this:
Real Fact: Carlos Boozer is a balding human male, with a hairline like the Wu-Tang logo. 

Alternative Fact: No, he is not. That hairline is glorious! Just look.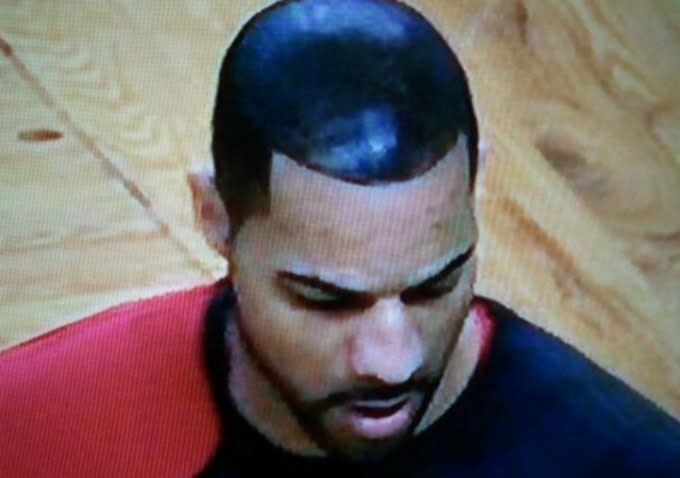 With the term dominating discourse in the world at large, it has also seeped into coach speak. Steve Kerr, Gregg Popovich, Brad Stevens, and Mike D'Antoni recently used the term in press conferences to joke about their teams' performances. 
Unfortunately, it seems these same coaches who are roasting Kellyanne Conway and Sean Spicer for doing their best amateur hypnotist impersonations based their All-Star selections on a series of alternative facts. This article will dive into those faulty suppositions and provide the corresponding "real facts" for each one. (How is this a thing now?)

Alternative Fact: Draymond Green is in the All-Star game because he's the best defensive player in the Western Conference.
He's not, and it's not particularly close. Rudy Gobert has been a one man wrecking crew, leading the Jazz, who regularly feature Joe Johnson and Boris Diaw in 2016-17, to the second best defensive rating in the league. Yes, the Warriors are number one, but Klay Thompson, Andre Iguodala, and Kevin Durant are also elite positional defenders.
Gobert doesn't have a bevy of elite complementary defenders. And that's fine because Gobert is a defense in and of himself. George Hill or Gordon Hayward (who are both okay-to-good perimeter defenders) let their man get past them? No problem, they have a behemoth behind them that's holding opponents to 47.4% shooting on 7.9 FGA within 6 feet of the rim this season. That's a ~14% difference from the league average (61%). Green is averaging a similar percentage at 48%, but he's facing two fewer shots at the rim. 
An alternative fact interpretation of this might be that Draymond is "preventing shots," but in reality Gobert is just rotating over to face more of them. Opponents last season averaged two shots less at the rim when Gobert was on the court, while the Warriors faced roughly the same amount with Draymond on the court. 
And when Gobert rotates on defense, he is meeting players at the rim and murdering them. Watch this brutal block on Rudy Gay:
https://www.youtube.com/watch?v=5bXj773opUM
There may be no other player in the NBA that can cover as much air space as Gobert to get to a block. Once he sniffs out a shot attempt, he reads the ball handler and extends his go-go-gadget arms to the meeting point like he's solving one of those "if train A leaves the station at 10:30" math problems. This was a work-in-progress for a while, but Gobert has finally developed top level defensive instincts and strength to go with his freakish wingspan and athleticism. The timing that he displays on some weakside blocks, getting the ball just before it reaches the peak of its arc, is an art form.
So you might be saying, "Alright, alright, but Draymond's a swiss-army knife, capable of guarding 1-5." You're right, but even in this department, Gobert allows the same FG% of 43.6% on significantly more looks per game. Gobert saves more points per game by using his instincts and size to get involved in more plays. Here's some footage of Gobert that shows how his combination of wingspan and lateral agility allows him to effectively guard the area from the free throw line to the basket on pick and rolls. 

And when it comes to ending the possession, there's no contest. Gobert has established himself as an upper-echelon defensive rebounder. He's 6th in the league with 8.9 a game and has a DRB% of 29%. Green, on the other hand, averages 6.9 and 21% in these categories. 
In addition to being the best defensive player in the league, Gobert also averages 13 points (three more than Draymond) on a league-best 68.2% true shooting (14% better than Draymond). Taking this into consideration, it's clear that "the Stifle Tower" should not only be in the All-Star Game, he should be in the MVP conversation. Green's elite passing makes the debate between the two closer, but Gobert is so much better at the things that he's good at that he's an obvious choice. Green, DeAndre Jordan, and Marc Gasol getting in over him is an affront to the dark arts of defending the rim. 
Alternative Fact: Decision makers have upheld the will of the people.
Once again the popular vote didn't matter……

— Joel Embiid (@JoelEmbiid) January 27, 2017
You know what would have been cool? A statistically-deserving mountain of a man that does this:
https://www.youtube.com/watch?v=38avfU_Tv1k
and this
and this
being included in an exhibition game about entertaining the fans. Instead we're forced to endure another 48 minutes of media silence regarding Kevin Love's nose job. 
Alternative Fact: Paul Millsap is only getting better and was a no-brainer selection.
First, we'll start with the good: Millsap is one of the better passing bigs in the league and he's absolutely deadly from triple threat position, where he's capable of shooting, passing, or using his dribble for a drive to the rim. That versatility creates defensive confusion, which Millsap abuses with glee. Check out these highlights from his big performance against the Spurs, where he uses control and technique from the post, high-post, and perimeter to create openings to score.
Like Draymond, Millsap is a strong and versatile defender who uses his wingspan to compensate for sub-par height. He can credibly defend 2-4 and has the quickness to cover smaller players.
The problem is that he hasn't been doing any of this well enough to compensate for the fact that he's shooting from further more often and his shot isn't going in. His mid-range jumper, which was once one of the best in the league, has dipped to 34.5%, and he's still only a middling 33% three-point shooter. This means that on most nights, teams are no longer honoring Millsap's jumper to the same degree and the drive opportunities that you see in the Spurs game are drying up. He's taking a full 10% fewer shots at the rim this season, has moved his average shot distance a full two-feet further out, and is taking many more long twos.
This has resulted in Millsap registering a career worst 53.6% TS, below average for a power forward, and certainly not All-Star worthy for a player that isn't particularly good at ending or extending the possession either. Millsap has only posted a TRB% of 13% this season, which is also a career worst and is another side-effect of his game moving further away from the rim. 
That difference in scoring efficacy and rebounding is the difference between an underrated player that does it all and an overrated one. No matter what else you do, if you can't rebound and score effectively, it's hard to be considered of the better bigs in the NBA. 
Millsap's success in other areas is challenging that supposition (along with Green), but leaving out the more dominant Joel Embiid is a mystery. Embiid has been as good, if not better, on defense. He's allowing only 42.8% on FG attempts at the rim, which is the best in the league for players who face more than two shots a game. When you watch him on the court, he is so freaking big and so freaking quick that he seems to come out of nothingness to destroy a shot into the third row. He is already one of the best bigs in passing lanes and looks like Anthony Davis when he comes out to challenge a jumper.  A human being that large should not be able to recover to affect plays like he does.
On offense, Embiid sports a 58% TS on a ridiculous 36% usage. He's basically given the ball in hopeless situations and told to score, and he's doing it effeciently. In a game I watched against the Hornets, he was actually triple teamed, pivoted, and isolated a smaller post defender for a basket and the foul. This is high level stuff that you wouldn't expect from a rookie—even one as old as Embiid. When you consider that he also rebounds so much better, Millsap's selection is hard to justify. 
For those that would use the minutes played argument, he's scoring more points, more efficiently and rebounding the same amount in 10 fewer minutes per game. He's also way more fun to watch (see above), which should definitely be a tie-breaker for an All-Star Game selection.
Big ups to @MaxRappaport for this extremely professional graphic.
The coaches should have done the fun thing, but they didn't because they're coaches. This means that they love grit and footwork and screaming ICE, but hate good things that people like. There are a handful of other players that, although less fun, also deserved a nomination over Millsap, including Otto Porter Jr., Myles Turner, Hassan Whiteside, and yes, Millsap's teammate Dwight Howard, who has been unbelievably good for the Hawks. 
Alternative Fact: The nous of Marc Gasol will greatly improve the quality of this All-Star game.
FOH. We've done Marc Gasol in the All-Star Game. If I wanted to see a gigantic dude use footwork to effectively contest dunks, I would be watching literally anything else. If Gasol was deserving, it'd be one thing, but the coaches left a better, younger, and more fun version of Gasol to rot in the doldrums that is the "Rising Stars Challenge" (if that's what it's still called?). That player is Nikola Jokic, and he's the 21-year-old Serbian star of the Denver Nuggets.
I get that the All-Star Game rewards past performance, but the coaches failing to vote a guy that has absolutely dominated the league since becoming a starter 14 games into the season is as predictable as it is mind-boggling. 
Jokic is a better passer, shooter, and rebounder than Gasol. The shooting numbers, in particular, stick out like a sore thumb. He has a 10% better TS% with only slightly lower usage. Gasol may have a more versatile scoring game, but Jokic is incredibly effective at his bread and butter: using a bevy of quick angled finishes and low-post moves to isolate defenders and score one-on-one. He may have the best touch in the NBA and is unaffected by contests around the rim, as he uses his guile and ridiculous timing with the ball to finish before defenders can challenge the shot.
Look at how few difficult shots he had to take en-route to scoring 35 points against the Spurs.
https://www.youtube.com/watch?v=nbSC1e0qvjk
But the selling point with Jokic in the All-Star Game is his passing. No one is watching a damn All-Star game to see creative tap-in finishes. The young Nugget has a ridiculous basketball IQ and has taken Gasol's impressive passing skill and smashed the upgrade button. Look. At. These. Passes. 
It's been talked about to the point that I think it might no longer be interesting, but then I watch the passes again. For a fan of the game or a high-flying player looking for a lob, this reel is basically pornography. He can execute basically every NBA pass (and a few And1 ones) as a center. His ability to lead the break and throw insane, inch-perfect passes, in particular, stands alone for a player of his size. If we're going to get a ground-bound Euro in the All-Star Game, Jokic would have been a hell of a lot more deserving (and entertaining) than Gasol.
Edited by Brian Kang, Peyten Maki, Nicholas Martinez.
SQuiz
Carlos Boozer last made an NBA All-Star Game as a member of what team?
Created 1/27/17
Utah Jazz
Chicago Bulls
Los Angeles Lakers
Cleveland Cavaliers