Brett Davis-USA TODAY Sports
Defense wins championships, and NFL teams will have plenty of playmakers to chose from in 2018.
Earlier this month, I gave an early look at the offensive players already making a name for themselves in anticipation of the 2018 NFL Draft. This week, it's time to give the defensive players the attention they deserve. 
In 2017, 131 defensive players were taken in the NFL Draft, almost 52 percent of the total players selected, and the 2018 draft class could be even better. Below is a list of those already making their case for best at their position. I will discuss what they have done in college already and why NFL scouts are paying them special attention. 
Edge: Arden Key-
LSU
Over the past few years we've seen an evolution along the defensive line. Those that primarily lined up at defensive end are no longer labeled as such. Instead, that are pass-rushing specialists labeled simply as edge rushers. The edge position include 4-3 defensive ends, 3-4 defensive ends, and 3-4 outside linebackers and for this list we focus on all three of those positions. Arden Key out of LSU is the one at the top of everyone's list as the best pass rusher. 
Career Stats: 96 total tackles, 19 for loss, 17 sacks
Making an immediate impact as a freshman is almost a requirement for prospects so highly rated, especially if they want to draw NFL attention early; Key did just that. As a freshman, he started nine of the 12 games he played in. He finished with 41 total tackles, 6.5 for loss, and five sacks for the Tigers while also being named a Freshman All-American and to the SEC All-Freshman team. 
Building off his impressive freshman outing, Key totaled 55 tackles, 12.5 for loss, and 12 sacks, which ranked 10th nationally. Key took some personal time off during spring practice, but has since rejoined the team and is looking to improve his draft stock again. 
Why The
NFL

Wants Him

Key has NFL pass-rushing size that will have scouts flocking to see him. He comes in at 6'6" and 238 pounds with incredibly long arms which he uses well. He is able to use his pass-rush moves from either a three-point stance, much like a typical defensive end, or standing up like an outside linebacker. Either way, Key is a speedster off the edge, easily getting by offensive tackles on numerous occasions.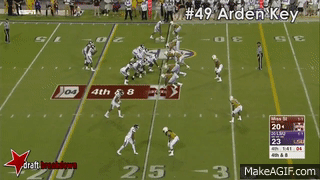 On this play, Key stunts inside the tackle, and with his speed is virtually untouched as he makes the game-saving sack. NFL teams will love his explosiveness off the line and his ability to use his length to hold blockers. 
Former SEC defensive end Myles Garrett was selected number one overall in the 2017 Draft and seen as a generational pick, but former NFL defensive end Chuck Smith thinks Key is even better. 
Myles Garrett is not on this guy's level when it comes to pass rush, This guy is the best pass rusher in the

SEC

over the last 15 years. No one is even close. … If he's not the No. 1 pick next year? Teams are going to miss out. He's got bend like Von Miller and a spin like Dwight Freeney. He knows how to do all the pass rush moves, why to use the moves, how to use the moves and he has edge speed. He can head fake you like Osi Umenyiora. That's what makes him special. I guess the last thing that makes him special is he has that dog in him. That real dog, and he is hungry to be the best.

Not everyone feels the same way Smith does, but if Key can perform like he did in 2016, then NFL scouts will quickly make the comparison between him and Garrett, possibly putting Key in higher regards. 

Other Edge Rushers: Bradley Chubb (NC State) Harold Landry (Boston College) Tyquan Lewis (Ohio State) 

Defensive Tackle: Christian Wilkins-Clemson 
Interior defensive linemen are no longer strictly asked to be run-stoppers, using their size to plug up holes and draw double teams from the offensive line. Versatility is almost a requirement now, as seen with Jonathan Allen out of Alabama, who was the first defensive tackle taken in the 2017 Draft. The best of this year's class is Clemson junior Christian Wilkins. 
Career Stats: 81 total tackles, 17.5 for loss, 5.5 sacks 
At this point in his career, Wilkins' numbers aren't much to look at. In 2016, he finished ninth on the team in tackles (48) and fifth in sacks (3.5). However, he did lead the team in tackles for loss at 13 and will look to improve those numbers his junior season. Wilkins isn't the flashiest player, but will be looked at as an anchor for the Tiger's defense in 2017. 
Why The
NFL

Wants Him

As stated before, the NFL values versatility along the line and Wilkins is about as good as is gets. At 6'4" 310 pounds, Wilkins has the size to hold down the middle of the defensive line, but also has enough quickness to play defensive end in a 3-4 scheme.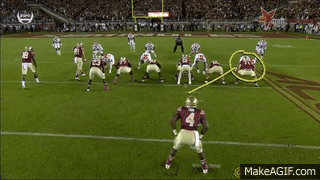 In 2016, Wilkins primarily lined up in a 5-technique (outside shoulder of the tackle), but will most likely be lined up in a 3-technique at the next level. On this play we see him shoot through the B-gap from the outside and make a tackle for about a three-yard loss. His anticipation allows him to gain leverage on the tackle (#71) and make him miss a key block. 
Like Allen, Wilkins' as a pass-rusher is at his best from the interior. He has enough speed at the college level to play defensive end, but is a much bigger threat from the inside. He lacks polished pass-rushing moves and relies on his strength to push blockers into the thrower. Wilkins won't blow you away with sacks, but will constantly be in the face of any quarterback he goes up against. 
Other DTs: Da'Ron Payne (Alabama) Da'Shawn Hand (Alabama) Vita Vea (Washington)

Outside Linebacker: Malik Jefferson-Texas
Much like the edge position, the outside linebacker spot can encompass players with different skill sets. Some defensive ends may be considered outside linebackers, but are usually nothing more than a player that can get to the quarterback. A pure outside linebacker can rush the passer while also being able to effectively drop into coverage. Texas has missed out on recruiting NFL talent (only two players drafted over the past two seasons) but now they possess one of the best defenders in college football with linebacker Malik Jefferson. 
Career Stats: 121 tackles, 16 for loss, 9 sacks, 5 pass deflections, 
Former head coach Charlie Strong didn't do a good job of bringing talent to Texas, but Jefferson is one of the few players he got right. Jefferson broke out for the Longhorns his freshman season picking up 61 tackles, seven for loss, and 2.5 sacks on his way to being named Big 12 Defensive Freshman of the Year. 
In 2016, Jefferson was moved to inside linebacker and while his numbers improved, he still struggled a bit in an up and down season for him and Texas. He finished the year with 60 total tackles, nine for loss, and 6.5 sacks. New head coach Tom Herman moved Jefferson back to the outside, where a return to his former self should prove why he's the best linebacker prospect in the 2018 NFL Draft. 
Why The
NFL

Wants Him

Simply put, Jefferson has the size that coaches want in the NFL at 6'3" 238 pounds and posses athleticism that is off the charts. At times last season, Jefferson looked out of place on the inside, but by moving back out, he should be able to show NFL scouts the speed needed to be a force against the run and pass.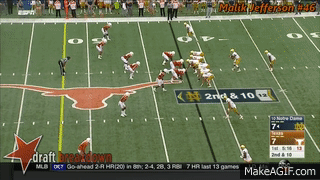 While he didn't make the tackle in the above play, his ability to use his speed was on full display. Jefferson was able to read the play and shoot between the tackle and the tight end. He was able to force the runner back into the teeth of the defense where a Longhorn teammate was able to make a tackle for a big loss. 

Traditionally, middle linebackers aren't asked to do much in coverage aside from roaming the middle of the field and not letting any easy passes come through. On occasion, they'll be tasked with playing man against the running back coming out of the backfield. Below, Jefferson flashes the potential as a coverage outside linebacker, taking the running back target out of the play. It's a small example, but Jefferson is a much better cover man than he was used last year.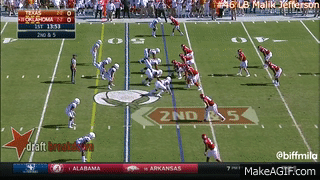 Other OLBs: Azeem Victor (Washington) Kendall Joseph (Clemson) TJ Edwards (Wisconsin)
Inside Linebacker: Cameron Smith-
USC
Young NFL ready inside linebackers are few and far between. Not many prospects are able to show the necessary ability to be flexible in both the run and pass game by holding down the middle. There are several prospects that will turn into good professionals, but Cameron Smith out of Southern Cal has had NFL hype for a number of years.
Career Stats: 161 total tackles, 8 for loss, 2 sacks, 3 interceptions, 7 pass deflections 
The last Trojan linebacker to be taken in the NFL was Su'a Cravens, taken 53rd overall in 2016. Junior Cameron Smith is an even better prospect, and has been since his freshman year. Playing in only 10 games as a true freshman, Smith piled up 78 tackles and three interceptions. He was named to the All-Freshman team and also named Pac-12 Defensive Freshman of the Year.
Coming off a knee injury that shortened his freshman season, Smith came back and started all 13 games for USC. He lead the team with 83 tackles and was named All-Pac 12 second team on a unit that ranked 30th in yards given up per game. 
Why The
NFL

Wants Him

Smith has the instincts and the football sense to be a high first-round pick in 2018. In a 2014 article on SBNation.com, Darrell Warren was quoted on his breakdown of Smith before coming into college. 
Smith is a linebacker recruit blessed with phenomenal size. He's an instinctual player with good versatility. This trait shows up on tape in his ability to affect the game in multiple facets. As far as the foundation of Smith's game is concerned, his primary role projects to be as an interior thumper. That said, he's a coordinated athlete with body control, who flashes some change of direction in close quarters

Nothing much has changed since being at USC. Smith is still an interior force that isn't afraid to shoot the inside gaps and make a play at the point of attack. In the play below, Smith shows off his instincts and willingness to be the aggressor. 
Smith reads the direction of the play quickly and steps up into his assigned gap. He sees the pulling guard and initiates the hit so he doesn't lose ground and makes the tackle before the runner can pick up speed. This aspect of Smith's game is what has earned him so much attention from the NFL. He needs to improve in coverage, but Smith is versatile enough to still make consistent plays in the middle of the field. 

Other ILBs: Josey Jewell (Iowa) Micah Kiser (Virginia) Mike McCray (Michigan) 

Cornerback: Minkah Fitzpatrick-Alabama
The NFL factory that is the University of Alabama produced 10 draftees in 2017, second only to Michigan who had 11. Since 2010, the Tide have produced 61 players drafted, but the bulk of those have been on the defensive side (35). New York Giants' safety Landon Collins and Green Bay Packers' safety Ha Ha Clinton-Dix are the only defensive backs to turn into Pro-Bowlers, but current defensive back Minkah Fitzpatrick may soon join them once he enters the league. 
Career Stats: 111 total tackles, 8 interceptions, 4 touchdowns, 26 pass deflections
It's not often a true freshman sees significant playing time on a Nick Saban defense, but that's exactly what Fitzpatrick did. He played a big role on special teams in 2015, but produced big plays when he made it onto the field for defense. He finished his freshman season with 45 total tackles and two interceptions, both of which he returned for touchdowns. 
In 2016, Fitzpatrick left his mark on college football, becoming one of the best defensive players in the country and drawing attention from the NFL. He finished with 66 total tackles, six interceptions (tied for seventh in the country) and two touchdowns (tied for third). Fitzpatrick was also second in the country with 186 interception yards, including an Alabama record 100 yard pick-six against Arkansas. He was also a consensus first-team All-American as a safety.
Why The
NFL

Wants Him

I've used the word versatile to describe a number of the prospects on this list, but Fitzpatrick takes versatile to a whole new level. Entering 2015, and most of the 2016 season as well, Fitzpatrick was seen strictly as a cornerback. However, starting safety Eddie Jackson suffered a season-ending leg injury against Texas A&M. Fitzpatrick moved into the empty spot and didn't miss a beat. Pro Football Focus broke down just how dominant Fitzpatrick was in 2017. 
Another of Alabama's defensive stand outs, Fitzpatrick has been outstanding when lined up in the slot, and impressed when he's had to cover at safety too. On the 37 passes thrown into his coverage when lined up in the slot, Fitzpatrick has allowed 17 receptions for 212 yards, with no touchdowns and three interceptions. That was good for an

NFL

passer rating of just 30.5. For context, the

NFL

passer rating of dropping back to pass and just throwing the ball away is 39.6. 

His best game this past season was against Arkansas, where he had three interceptions and a 100-yard pick-six, but it was a play where he had a simple pass breakup that should be looked at by scouts.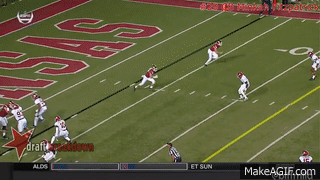 Fitzpatrick lined up at corner this game and made a number of plays. On this pass, he backpedals from the start and does stumble a bit when the receiver fakes to the inside slant route. However, Fitzpatrick's speed allows him to recover quickly and make a breakup, preventing a first down. These kinds of plays will separate him from his competition more than a simple interception. 
Going into 2017, it's unclear where Fitzpatrick will primarily line up. He's listed as a cornerback, but Saban used him at a lot at safety during the spring. It shouldn't matter if he plays corner, safety, or "star" (dime cornerback); Fitzpatrick should prevail wherever he is placed and be the next Alabama defender to be a first-round pick. 
Other CBs: Tarvarius McFadden (Florida State) Jaire Alexander (Louisville) Adonis Alexander (Virginia Tech)

Safety: Derwin James-Florida State 
Florida State has been one of the most consistent teams in college football for years, and their talent has been on display in recent NFL Drafts. Thirty-one Seminoles have been taken in the past four drafts, with the star being cornerback Jalen Ramsey, taken fifth by the Jacksonville Jaguars in 2016. Safety Derwin James was still able to make a name for himself even with Ramsey on the same team. 
Career Statistics: 102 total tackles, 9.5 for loss, 4.5 sacks, 2 forced fumbles, 1 interception
James went into FSU as the eighth best recruit according to ESPN and he lived up to the billing immediately. On a defense that finished 29th nationally in opponent yards per game, James was near the top of the team in a number of categories. He ranked second on the team in total tackles (91), tackles for loss (9.5), sacks (4.5), and forced fumbles (2). Pro Football Focus ranked James as the second highest rated safety in the country while playing 719 of the Seminoles' 970 defensive snaps, 415 of those at the safety position.  
After only playing in two games, James tore his lateral meniscus and was forced to miss the rest of his sophomore season. Despite the setback, everyone expects James to pick up where he left off and remain in the conversation for not just best defensive back, but best defender in the 2018 draft.  
Why The
NFL

Wants Him

When it comes to NFL size, James isn't lacking in that department, coming in at 6'3" and 211 pounds. In a day and age where teams are looking at smaller and quicker defensive backs, James brings with him the presence of an old-school hard-hitting safety. NFL.com analyst Bucky Brooks compared James to two 2017 first-round picks, and it's not two you'd expect.  
This is going to be a crazy combination, but I'm going to take two prospects from this draft we just finished. He has a mix of Jamal Adams and Reuben Foster in his game. He plays with a nasty streak and temperament, but he is an outstanding leader. He is one of my favorites.
James has the covering range of LSU's Jamal Adams, who went sixth overall to the New York Jets, mixed with the hitting prowess of Alabama's Reuben Foster, who went 31st overall to the San Francisco 49ers. If that's a scary thought for college and NFL offenses to think about, I don't know what could be worse. Out of the 719 defensive snaps James played in 2015, as stated above 415 of those came at safety. The others came at slot corner (132), outside corner (four), in the box as a hybrid safety/linebacker (108), and even as an edge rusher (70).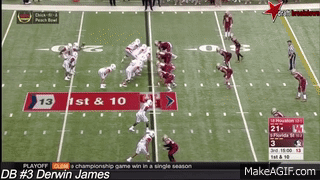 James is so fast it seems like at times he's in the midst of the play before anyone really knows what's happening. Against Houston in the Peach Bowl, James tried to jumpstart the Seminole team with a big six-yard loss early in the third quarter. He's able to read the option play and never takes his eyes off his assignment. Once the pitch is made, James picks up even more speed and makes a perfect tackle.
His numbers don't jump off the state sheet, but considering he accomplished what he has in only 15 games, it puts things into perspective. With another full year under his belt, James should be able to up his statistics to better show the versatile contribution he brings to any defense. 

Other Safetys: Armani Watts (Texas A&M) Marcus Allen (Penn State) Quin Blanding (Virginia) 
Edited by Jeremy Losak.
SQuiz
How Many Defensive Backs Were Taken in the 2017 NFL Draft?
Created 6/10/17
56
40
34
27