Moore should be considered one of the best receiver prospects in this year's draft. How high will he climb on draft night?
The Sports Quotient's annual Draft Preview series is back! Over the course of the eight weeks leading up to the 2018 NFL Draft, we will take a look at the top prospects at each position. The last week is finally upon us and the receiver group is finally getting their time to shine. Today I'll be taking a deeper look at DJ Moore out of Maryland. 
College Career
DJ Moore is used to being overlooked. Coming out of Philadelphia, he was a three-star recruit who didn't have many offers from major programs. Ultimately Moore landed at Maryland where he became one of the school's best wide receivers. 
As a freshman, Moore saw tons of action, starting the final 10 games of the year. He finished tied for the team lead in touchdowns with receptions with three while also finishing second in catches (25) and yards (357). Moore's sophomore year saw an increase in every statistic. He led the team in receiving yards with 637 and touchdowns with six while tied for second in receptions with 41. 
Moore built his draft hype during his junior year at Maryland. Despite playing with four different quarterbacks over the course of the year, Moore proved to be one of, if not the best, receiver in the Big Ten. He led the Terrapins in almost every category with 80 catches, 1,033 yards, and eight touchdowns. Moore brought home a number of accolades in 2017 including being named Big Ten Reciever of the Year, First Team All-Big Ten, and First Team All-American by the AP and Athlon Sports. 
After a great career at Maryland, how does Moore fit in the NFL?
Pros
Moore's biggest asset is his elite speed. At the combine, he ran the fifth-fastest 40 time at 4.42. It's one thing to show speed in a controlled setting but Moore showed off his speed on the field time and time again.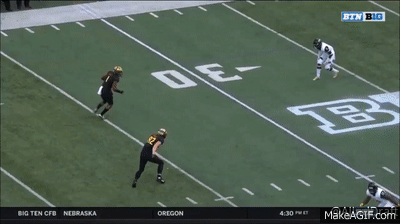 Not only is he able to simply run past defenders, Moore is able to make defenders miss in the open field. His footwork in tight spaces makes him a truly special talent. Here against Towson, he takes a simple wide receiver screen and turns it into a 30-yard touchdown while leaving multiple defenders falling around him. 
As stated earlier, Moore worked with four different quarterbacks in 2017 and eight over the course of his career. Luckily for the quarterbacks, Moore did a fantastic job in bailing them out on bad throws. What sometimes feels like a lost art, Moore was able to make adjustments while the ball was in the air and also fought to come back to the football to make the quarterback's job easier. 
This ball is slightly underthrown to Moore but he's able to track the ball and adjust to the middle part of the field and make the catch. 
Moore might be one of the most impressive all-around athletes in this year's draft. His speed in the open field and in tight spaces is impressive. But he also has great body control. He has a knack for bringing in tough throws that many receivers wouldn't be able to get to. Not many receivers would be able to jump while also having to reach back to snag a pass. Moore not only does that but he's also able to take it for a touchdown.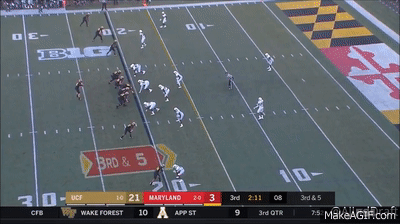 Cons
Most of a receiver's issues usually come from some sort of inability while working his route. Moore is no different, but it isn't because he can't do something. He's got the speed to get in space but his route running needs tons of work. Jon Ledyard of NDT Scouting.com describes the issues with Moore perfectly. 
 The issues with Moore are what he does before the catch, or more accurately doesn't do. He's not refined in his releases or in his routes yet, and he has some Corey Coleman-like technical flaws that could slow his impact in the

NFL

if he doesn't polish up his skill set.

Partially due to Maryland's offensive playcalling, Moore didn't run a variety of routes. He mostly ran short simpler routes that allowed him to create in space. But when asked to run more intermediate routes he struggled to run them properly. 
At the top of the formation, it looks like Moore is meant to work inside before transitioning to a corner route. The defensive back presses on him on the inside more and Moore doesn't work hard enough to separate and get to the corner route. The throw doesn't go his way but receivers still need to make it a habit to run crisp routes at all times. 
Even when not going against press coverage, Moore still didn't run the best routes. On this play against UCF, he makes a great catch but the route is rounded off with little effort. If he would have made a harder cut, the original defender wouldn't have been nearly as close to him. 
Verdict
Moore is one of the biggest risers in this year's draft class. While analysts were originally talking about Alabama's Calvin Ridley and SMU's Courtland Sutton, Moore has risen to WR1 on some expert's rankings.  
Final WR Rankings..
1- DJ Moore UMD
2- Calvin Ridley Bama
3- Courtland Sutton SMU
4- Christian Kirk Texas A&M
5- DJ Chark LSU
6- Equanimeous Brown ND
7- James Washington Okla St
8- Anthony Miller Memphis
9- Deon Cain Memphis
10- Michael Gallup Colo St
10b- Dante Pettis Wash

— Chad Forbes (@NFLDraftBites) April 14, 2018
Similar in playing style to former Terrapin and current Viking Stefon Diggs, Moore has all the tools to be a very good receiver at the next level. His ability to make defenders miss in the open field and in tight spaces might be the best in the class. He had some issues with drops but also bailed out his QB on numerous occasions. Moore's biggest flaw to work out is his route running. He didn't run a lot of variety at Maryland but with good coaching and time, he should be able to hash out those issues and become a solid receiver. 
Best Fit
There are a number of teams in the first round that could use a wide receiver but trying to find out which player is going where is difficult. Unlike in years past, no one receiver has separated himself as the clear-cut best prospect. It seems though the top of the group is Ridley, Moore, Sutton, and even Anthony Miller out of Memphis. 
The Baltimore Ravens at No. 16 and the Dallas Cowboys at No. 19 are the favorites to covet a wide receiver early in the draft. The Ravens failed to have a receiver reach 750 yards last season and the Cowboys just released Dez Bryant last week. Moore, Ridley, and even Sutton should be in play in this spot. 
I believe Moore gets taken at 24th to the Carolina Panthers. Last season the Panther's leading receiver was Devin Funchess with 840 yards and running back Christian McCaffrey was second with 651. Cam Newton is desperate for a reliable target and Moore provides a nice balance of immediate production along with high upside in the future. 
Edited by Emily Berman.
SQuiz
Who's the only Maryland receiver to make a Pro Bowl?
Created 4/15/18
Stefon Diggs
Darrius Heyward-Bey
Torrey Smith
Jermaine Lewis