Nick Wass-Associated Press
Joe Flacco is having a bad, bad 2017. What's caused his fall from grace since his 2012 title?
Joe Flacco's 2012 playoff run may go down as one of the luckiest playoff performances in the history of the NFL. Flacco went 73-for-126 (57.9%) for 1,140 yards, 11 TD's and 0 INT's, won a Super Bowl and used that performance as a bartering chip to push the Ravens into ponying up the then-biggest contract for a quarterback in NFL history. 
His six-year, $120.6 million extension has always been a bit of an overpay for a quarterback who performed at his best in his contract season, but Flacco has spent nearly the entirety of the 2017 season proving that he neither deserved the first contract he got nor the extension he signed last season.
His numbers have usually ranged between average and slightly below average through the first nine seasons of his career. He's never been a Drew Brees or Tom Brady-type volume passer, but his peripheral stats have usually held up okay despite playing in a fairly tough division.
Year
Att/Comp (%)

TD

(%)

INT

(%)
Y/A

AY

/A

NY

/A

ANY

/A
Sacks
Rating/

QBR

2008
257/428 (60)
14 (3.3)
12 (2.8)
6.9
6.3
5.86
5.29
32
80.3/49.1
2009
315/499 (63.1)
21 (4.2)
12 (2.4)
7.2
7.0
6.12
6.70
36
88.9/61.6
2010
306/489 (62.6)
25 (5.1)
10 (2.0)
7.4
7.5
6.29
6.39
40
93.6/61.9
2011
312/542 (57.6)
20 (3.7)
12 (2.2)
6.7
6.4
5.95
5.70
31
80.9/68.1
2012
317/531 (59.7)
22 (4.1)
10 (1.9)
7.2
7.2
6.33
6.33
35
87.7/55.0
2013
362/614 (59.0)
19 (3.1)
22 (3.6)
6.4
5.4
5.42
4.50
48
73.1/51.2
2014
344/554 (62.1)
27 (4.9)
12 (2.2)
7.2
7.2
6.66
6.66
19
91.0/72.1
2015
266/413 (64.4)
14 (3.4)
12 (2.9)
6.8
6.1
6.22
5.61
16
83.1/54.2
2016
436/672 (64.9)
20 (3)
15 (2.2)
6.4
6.0
5.78
5.39
33
83.5/58.4
There's enough of a sample size that it's much easier to make comparisons from season to season than with a less experienced quarterback. His best seasons as a passer would almost certainly be 2010 and 2014, and not just because of those being the seasons where he threw the most touchdowns. They are the seasons where Flacco had his best and tied-for-second-best seasons in yards per attempt and adjusted yards per attempt. They are where Flacco either dealt with the second-most or second-fewest sack numbers of his career so far, and they are also the only two seasons where Flacco's quarterback rating has exceeded 90.
Flacco had a nice start to his career with his passing touchdown totals increasing and interception rate decreasing in each of his first three seasons. That's when he started going through some up and down seasons and where he started changing offensive coordinators at a commensurate rate. 
Statistically, his 2013 season numbers are easily his worst before this season, and that was when the Ravens seemed to be truly lucky to break even with a .500 record considering their offense was dealing with injuries, including to pre-assault Ray Rice, and Flacco took the most sacks in his career by far.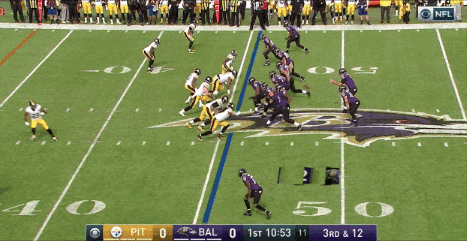 When you go deeper into statistical breakdowns and start analyzing game tape, 2016 was also not a good year for Joe Flacco, even if his numbers suggest a middle-of-the-road quarterback. Known for being a top-end deep passer, Jonathan Kinsley's Deep Ball Project shows that 2016 Joe Flacco in no way deserves that status. Flacco was just 27-of—86 (31.4% completion percentage) for 769 yards, 5 TDs and 6 INTs on passes that traveled 16 yards or more through the air (air yards). His accuracy percentage (which focuses on the accuracy of the passes, not whether they were complete or incomplete) on the 16-yard+ passes was 29th in the NFL at 36%. When you move it to passes that traveled 20 yards in the air or more, Flacco was 15-of-57 (26.3%) for 547 yards, 3 TDs and 4 INTs. His accuracy percentage on the 20+ throws was 30th in the NFL at 26.3%. By comparison, Sam Bradford of the Vikings, despite playing behind a far inferior offensive line, rated first (66.7%) in accuracy percentage for 16-yard+ throws and third (59.1%) in accuracy percentage for 20+ throws.
Kinsley's notes on Flacco are even less kind:
Let's talk about 2016. Flacco was easily one of the worst quarterbacks in the league last year. Come to think of it, he's been one of the worst quarterbacks since after he won Super Bowl

MVP

. He's just given up on his mechanics, accuracy, and train of thought in the pocket. The result is a careless mess.

Ranking in the bottom 3 in accuracy on both 16+ and 20+ throws while serving up plenty of turnovers and dropped picks, it's a shame Joe Flacco's level of badness never gets talked about, because it makes for great conversation. This is a guy that has gotten passes with being bad for a while, and it's about time we started talking about it.

Only the presence of Blake Bortles and some good throws managed to save Flacco from grading out with an F-. If you had never watched him play before 2013, you'd probably wonder how he has a Super Bowl ring too.

So it wasn't a particularly good season for Flacco last year, especially with regards to his mechanics starting to go awry. Kinsley's article has a number of gifs in it that show Flacco's struggles with his mechanics. Mechanics going haywire is usually something that happens to quarterbacks who are constantly being pounded into the turf, not quarterbacks standing behind an offensive line that gave up 35 combined sacks in the two years before 2016. So the statistics say one thing about Flacco's 2016 and the tape shows another. Then comes 2017 and Flacco has completely fallen apart as a quarterback.
In Flacco's four games so far, he has two games under 55% completion (Weeks 1 and 3), has yet to have a game where he hasn't been intercepted, and the two teams he did lead his team to victory over are the Browns (0-4) and the Bengals (1-3). So not exactly the high-end talent pool of the NFL he's facing off against here. He's also the dubious owner of the longest current streak of games with an interception thrown at 10.
Joe Flacco has an INT in 10 straight games, the longest active streak @NFL.

— Andrew Siciliano (@AndrewSiciliano) October 1, 2017
In the Bengals game, the first drive of the game for the Falcons ended in a field goal because he threw two passes, both trying to hit Perriman, with one being broken up and the other just missing. His touchdown to Maclin in that game was a good pass but almost entirely YAC, as the pass hit Maclin just three or four yards off the line of scrimmage. 
His interception, shown on the left, did go off Terrance West's hands, but the pass itself was high and behind West and he had to make an adjustment to even get his hands on the ball. There is obviously a Bengal in the passing lane, but Flacco has ample room here to step up in the pocket or simply run to the right and have all kinds of room to create a new passing lane. Flacco's footwork here is also atrocious and to be perfectly honest is one of the reasons this pass is off-target the way it is.
The interception he threw against the Browns was one reminiscent of that old Rex Grossman meme: "F*** it I'm going deep." Flacco does do an admittedly good job of stepping up into the pocket here, but his throw is so far over the head of his wide receiver that the viewer can quite easily see when the receiver, Mike Wallace in this case, goes from trying to run under the ball and catch it to tracking the defensive back and trying to get close enough to the defensive back to stop the pass from being picked off. He's obviously unsuccessful and Jason McCourty catches what is likely one of the easiest interceptions he's ever had.
Flacco has had a few duds as a quarterback in the past, having had 19 other games thus far where he has completed 50 percent or less of his passes. But his Jacksonville Jaguars game is easily in the top three of the worst games of his career. Flacco went 8-for-18 (44.44%) for 28 yards and two interceptions. His yards per attempt was a paltry 1.56 and his play was so bad that his adjusted yards per attempt was actually negative at -3.44, both career-worsts for Flacco. He also took two sacks and was pulled before the beginning of the fourth quarter after the Jags had scored just four seconds into the quarter to push the score to 44-0.
His interceptions were both particularly bad shots downfield. Flacco's targeting of Jeremy Maclin here is absolutely the wrong read. Flacco is trying to take a deep shot down the field and cornerback AJ Bouye simply has too good of coverage to try and make this risky of a throw. The throw is also slightly overthrown and, as mentioned in the broadcast, is a pass Maclin has to make a great mid-air body adjustment on to even manage to get his hands on the pass.
Flacco's second interception is nearly as bad. He takes yet another shot deep, this time going across the middle and trying to hit Wallace. Cornerback Jalen Ramsey reads Flacco's eyes all the way and simply jumps the route (and makes a nice diving catch in the process). This pick is on Flacco, pure and simple. There isn't a single other player running a route on this play so as soon as Flacco pulls the ball back and shows pass,  his only target option outside of a player in the backfield is Wallace.
Flacco was slightly better in Week 4, but he still threw two interceptions and his yards per attempt and adjusted yards per attempt were 4.80 and 3.37, respectively. His two interceptions came on back-to-back drives as the Ravens were attempting to make a comeback while they were down 19-9.
I am so sick of Joe Flacco. pic.twitter.com/u9XNWjaBvi

— Jonathan Kinsley (@Brickwallblitz) October 4, 2017
Flacco's first interception is captured above in Kinsley's tweet, and it's honestly one of the worst interceptions that this author has seen a starting quarterback throw. It's rather reminiscent of several passes by Joe Webb during the Minnesota/Green Bay playoff game in 2012; it really is that awful. It's off his back foot, short of any of his receivers and is as much of a gift-wrapped interception as there is in the NFL these days. His second pick is no better.
On a fourth down play, with the game on the line, when a quarterback needs to be most careful with the football, especially after having lazily thrown an interception on the drive before this, Flacco is yet again careless with the football. The pass is again underthrown off Flacco's back foot and even if this throw wasn't picked off, there is a very low likelihood that it would have been a completed pass as his receiver would have needed a top-notch in-stride adjustment to catch it.
So far in 2017, Flacco is playing like the worst quarterback in the league. He's second in the league in interceptions (6), adjusted yards per attempt (3.5) and adjusted net yards per attempt (2.71) and has the worst yards per attempt (5.1) and net yards per attempt (4.20) of any QB in the league. The only quarterback challenging him in any of these categories is DeShone Kizer of the Browns, and he at least has the excuse of having his best receiver hurt and being a rookie QB. Flacco has neither excuse.
Joe Flacco - Games with QB Rating of 105+
2008-14: 33 (out of 112)
2015-17: 1 (out of 30)@mlombardiNFL @tatefrazier#Ravens #NFL

— 🌈 Rainbowcave ⛺️ (@

RNBWCV

) October 5, 2017
Joe Flacco has been hit 16 times this year. That's the fifth-fewest in the league. Joe said today that he needs to trust the pocket more.

— Ryan Mink (@ryanmink) October 4, 2017
Despite the many, many memes that have formed on the subject of whether or not he is elite, Flacco is objectively and statistically playing like, if not the absolute worst, then the second-worst quarterback in the NFL this season. Ravens fans don't even have the solace of being able to blame their offensive line, which, as Mink's tweet says, have only allowed Flacco to be hit 16 times, with nine sacks being recorded on Flacco. So Ravens fans will have to watch their defense, currently rated 14th in points allowed per game (20 PPG) and 20th in yards allowed per game (349.5 YPG) and hope that they can do enough to overcome their 30th-ranked offense in both points (15 PPG) and yardage (269.75) and Flacco's horrendous play.
Edited by Jeremy Losak.
SQuiz
Through four games, Joe Flacco is currently dead last in the NFL in yards per attempt. Who was dead last in the NFL in yards per attempt in 2016?
Created 10/6/17
Colin Kaepernick
Brock Osweiler
Carson Wentz
Blake Bortles