Jim Brown-USA TODAY Sports
A four-year starter at Western Kentucky, Forrest Lamp is looking to be the highest-drafted Hilltopper ever.
Over the course of the weeks leading up to the 2017 NFL Draft, we will take a look at the top NFL prospects at each position. This week, we dive into the offensive linemen position. Today, we look at Forrest Lamp from Western Kentucky.

College Career
After redshirting his freshman year in 2012, Lamp started nearly every game for the Hilltoppers over the next four seasons. He showed off his versatility in his redshirt freshman season by starting at both guard (three games) and tackle (nine games). From his sophomore year on, though, Lamp found a permanent spot at the left tackle position. Each of his last three seasons he was honored with All-Conference honors, and also third team AP All-American his senior year. 
Pros
Lamp is one of the most athletic linemen in this year's class, and that will pay off in a huge way over the course of his career. At the NFL Combine, he ran a five second 40-yard dash (fourth among offensive linemen) and pushed out 34 reps on bench press (tied for second). This combination of quickness and strength will make him a formidable opponent for any pass rusher. 
When looking at game tape for prospects from smaller universities, like Western Kentucky, it's good to see how successful they are against tougher opponents that have NFL level talent. In 2016 Western Kentucky played Alabama, and Lamp's skill set was on full display while blocking against potential first-rounders like defensive linemen Jonathan Allen and Tim Williams.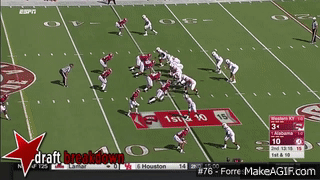 Here we see Lamp going one-on-one against Williams, one of the nation's best pass rushers. Williams tries to use his speed to get to the outside. Lamp does a fantastic job of staying in front of him and using his hands to keep Williams in front of him.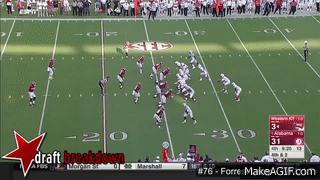 Lamp's footwork and sound technique is his greatest asset and will serve him well at the next level. Here we see him forced to switch his blocking assignment after an Alabama defensive line stunt. He initially takes the defensive end who stunts inside, but after seeing the defensive tackle pull to the outside, Lamp immediately switches to blocking the outside defender. Being able switch assignments quickly is an overlooked ability. 
Everyone knows that an NFL lineman needs to not only be strong in the passing game, but also be an asset in the run game. Sometimes we see left tackles specialize in the passing game, but Lamp is one of those guys that can succeed in all areas. 

In the first play below Lamp does a great job of reading the blitz from the outside linebacker who has come up to the line of scrimmage. He knows he won't be able to take the defender to the inside and gets off the line quickly to force him to the outside. This gives the running back a huge hole to run through, and he takes advantage for a big gain.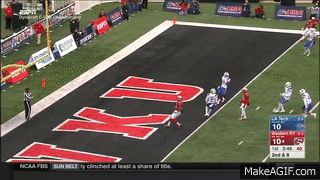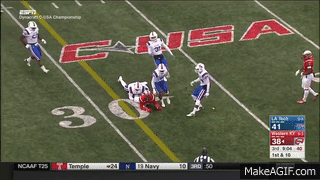 The second play shows Lamp's ability to get to the second level. At the snap he quickly gets to the middle linebacker and essentially takes him out of the play. He doesn't make a great block and seems to have a little trouble finding someone to block, but his ability to get to the linebackers quickly will help him at the NFL level. 
Cons
Lamp might be the most fundamentally sound lineman in this year's draft, but it's his size that could hold him back at the next level. The biggest knock against him is his arm length at 32.25 inches. Compared to other offensive linemen, like Cam Robinson whose arm length is 35.5 inches, Lamp doesn't stack up well for his position. More likely than not, Lamp will be moved to guard in the NFL and possibly even center. 
As is the case for many prospects from smaller schools, who Western Kentucky play will factor into Lamp's overall evaluation. Week in and week out the Hilltoppers don't see much, if any, top-tier talent on the defensive side. The past two seasons WKU did play Alabama and LSU, where scouts will have plenty of film to see Lamp in action against the best in college football. However, concerns over his ability to perform against top talent every week will come into play during evaluation. 
There's an NFL home for No. 21 prospect — Western Kentucky OL Forrest Lamp — despite short arms, position questionhttps://t.co/pLC8dAnU0u pic.twitter.com/5TybLhIfS4

— Eric Edholm (@Eric_Edholm) April 6, 2017
Best Fit
Overall, Lamp is a great talent and despite less than ideal arm length, he should succeed at any line position he's put into in the NFL. NFL.com has compared Lamp to the Cowboys' own Zach Martin, who's considered one of the best interior lineman in the league. 
Predicting where an offensive lineman will go in the draft is always tricky. NFL.com's Daniel Jeremiah, Bleacher Report, and Fox Sports have Lamp going 20th to the Denver Broncos. SB Nation doesn't even have him in the first round. 
Like Christian wrote in his article about Cam Robinson, there are a ton of teams looking for help on their offensive line. I don't see Lamp being as highly touted as Robinson, but plenty of teams will be hoping the former Hilltopper drops to them. 
The popular pick is the Denver Broncos at 20 and they certainly could use the help, but I like Lamp going 22nd to the Miami Dolphins. 
Last year the Dolphins moved to bolster their line by drafting Laremy Tunsil with the 13th pick. After primarily playing tackle at Ole Miss, Tunsil was moved to guard, just like Lamp is expected to do. However, starting left tackle Branden Albert was traded his offseason to the Jacksonville Jaguars. Tunsil is expected to hop back out to the left tackle spot, leaving a hole at guard. Perfect spot for Lamp to just slide right in and give the Dolphins a long-term duo on the offensive line.  
Edited by Jazmyn Brown, David Kaptzan.
SQuiz
Who's the highest drafted Western Kentucky player?
Created 4/3/17
Jeremi Johnson
Joseph Jefferson
Virgil Livers
Quanterus Smith