Shanna Lockwood- USA Today
A former five-star recruit with all of the physical skills, Lawson could be a steal for the right team.
College Career
Coming out of high school, Carl Lawson was primed to be the next great college football player. He was the second rated player in the nation behind future first round selection Robert Nkemdiche, and ahead of other first round players such as Vernon Hargreaves, Jalen Ramsey, and Laremy Tunsil. 
It seemed like the Georgia native was headed for stardom after a four sack, two forced fumble freshman season, but an ACL injury forced him to take a medical redshirt the following year. A nagging hip problem limited him to only seven games during the 2015 season, and hampered his play when he did manage to get on the field. It wasn't until last year, when Lawson broke out for 9.5 sacks and 14 tackles for loss, that the former five star recruit fulfilled some of his potential. He was honored with selections to the All-SEC and All-America teams in 2016. 
Pros
Lawson is a fast-twitch dynamo who gives lumbering lineman fits with a speedy, yet powerful first step off the snap. He uses his hands in concert with his feet to slap away the flailing lineman and get into Deshaun Watson's face in a hurry, forcing a bad throw which is eventually intercepted. This play shows up a couple times a game when looking at the tape.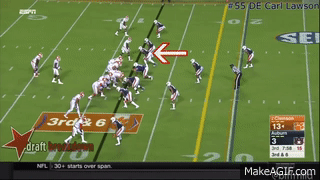 Here is a similar occurrence against Alabama (Auburn had a really tough schedule). He flies up the field off the snap and uses that momentum to shrug the tackle before hammering Jalen Hurts at the line of scrimmage. That bull rush is top notch, and Lawson's 35 bench press reps at the combine attest to the impressive upper body strength he uses to free himself from offensive linemen.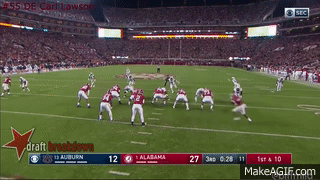 Against the run, Lawson can anchor himself against similar sized players before using that upper body strength to disengage from blockers. Here, he fires off the ball and uses good arm extension to bench press the TE away from his body, corralling the ball-carrier for a loss.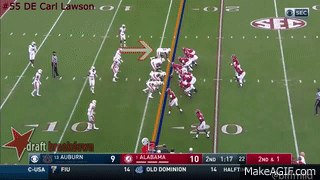 Lawson has great straight line speed and power for a defensive end. He has the benefit of playing with his hand in the ground, and from a standing rush during his days in Death Valley. Playing against some of the top competition in the country should also make for a slightly easier transition to the NFL than some other prospects.

Cons
The big problem that stands out when watching Lawson is his one-dimensionality. He rarely showcases any moves besides that bull rush, and when he does, it usually doesn't work for him. He spins to the inside when his bull rush is rebuffed, but gets clobbered by the guard dropping into that area in this clip. 
Balance is something that he will have to improve, both in his ability to stay upright, and in getting beneath lineman to create leverage on his rushes. His hips are tight and he rarely shows enough bend to be able to go around the athletic brick walls that are NFL offensive tackles.
Relying on that speed rush can cost him in other aspects, too. He jumps offsides too often as a result of always trying to gain an advantage off the snap.
In run support, Lawson can get enveloped by larger, stronger players. The tight end is able to stop Lawson from using his hands and feet before turning to create a large hole. When overpowered, the former Auburn stud isn't big or long enough to force the runner to redirect, nor is he powerful enough in the lower body to drive through an engaged blocker.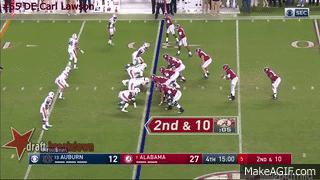 Lawson struggles when matched up with bigger players in run support, something that the numbers bear when looking closer. He will need to become more stout in his lower body to be effective enough to stay on the field in non-passing situations. 
In addition, the former Milton High standout only measures in at 6'2" and 260 pounds with shorter arms than most defensive ends. Those short arms are problematic because he can't get his hands in the passing lanes to affect the QB's vision, and will have a tough time knocking balls down. 
Injury concerns are valid since he missed a season and a half of games in only four years time. Some teams may drop him out of the first round because of this undesirable track record. 
The Verdict
Lawson is one of the more physically gifted players in this draft without a doubt. He is fast, strong and he can be too much for many college offensive lineman to handle because of his gargantuan talent.
Unfortunately, the talent and skill level of NFL lineman is far higher and they won't be nearly as over matched as the 19-22 year-old kids he faced in college. Lawson got pushed around a few times by Cam Robinson in the Alabama game, and at this juncture, he doesn't have the finesse needed to beat stronger and larger lineman.
As of now, Lawson is a situational pass rusher, who hasn't shown enough to be trusted in running downs. There is no guarantee he will ever become a three down lineman in the NFL, and seems to be best suited to play with his hand on the ground in a nickel/dime package. That drops his value a lot - at least a round or two. 
Given the tantalizing talent, but significant holes in his game, I would think that Lawson's value is at the end of the second round into the third. It's hard to part with anything higher than a third rounder for a situational player, even one who can rush the passer like he can. Being a highly touted prospect and playing at Auburn will bolster his draft position, though he really should be taken on the third day due to inconsistent play and injury history. 
Best Fit
To truly get the most of of his talent, Lawson should be utilized as a 4-3 defensive end. Though he played standing up a lot at Auburn, he doesn't have the versatility to cover, so putting him in a 3-4 OLB scheme isn't a good fit. Ideally, he would come into a place where he could just be a pass rusher until he learns the nuances of professional play. 
Carolina could be a good fit in the second round as they have the 64th pick, and Lawson could learn from the likes of Mario Addison and Charles Johnson. Having stout interior defenders like Kawann Short and Star Lotulelei would allow Lawson to focus on rushing the passer. 
Oakland had a really tough time getting to the passer last year despite having Khalil Mack, one of the top pass rushers in the game. Bringing in Lawson would put great speed on both ends in passing situations, which could make Oakland's defense more opportune with ball hawks Karl Joseph and Reggie Nelson patrolling the secondary.
Kansas City is looking to replace the production that Tamba Hali had given them for about a decade, and Lawson profiles as a similar player from a pass rushing outlook. The Chiefs will need to create more pressure on the QB if they would like to finally take the step towards becoming legitimate title contenders. I'm not crazy about his fit in the 3-4, but KC has made it work in the past.
Miami has a solid interior line due to the presence of Ndamukong Suh, so bringing in Lawson in passing downs could be a nightmare for opposing teams. Let him learn from Cameron Wake for a year or two before replacing the veteran in the near future. 
Philadelphia has a seek and destroy mentality for their defensive ends in Jim Schwartz' variation of the wide-nine defense. Lawson has the up-the-field disruptiveness that Schwartz looks for in his ends, and pairing him with Brandon Graham in passing situations would be quite imposing. 
Edited by Joe Sparacio, Emily Greitzer.
SQuiz
Which Auburn defensive lineman was taken in the first round of the 2014 NFL Draft?
Created 4/11/17
Nick Fairley
Corey Lemonier
Karlos Dansby
Dee Ford