Kevin Jairaj-USA TODAY Sports
Widely considered the best player in the draft, Garrett will terrorize NFL offenses for years.
Over the course of the weeks leading up to the 2017 NFL Draft, we will take a look at the top NFL prospects at each position. This week, we dive into the defensive line. Today, we look at Myles Garrett from Texas A&M.
College Career
From the moment Garrett stepped onto the field for the Aggies, he proved to be a difference maker and one of the nation's best defensive ends. His freshman year he managed 49 total tackles, 12.5 for loss, and 11.5 sacks on his way to being named a consensus freshman All-American and second-team All-SEC. 
His sophomore year was probably his most productive season for Texas A&M. He racked up 59 total tackles, 19.5 for loss, 12.5 sacks (tied for second in the country), and five forced fumbles. While only making third-team All-American, he was named a finalist for the Lombardi and Hendricks Awards, given to the nations best defensive player. 
Battling a knee injury, Garrett's numbers dipped his junior season. Starting only nine games, he picked up 33 total tackles, 15 for loss, and 8.5 sacks. He was named first-team All-American and All-SEC. 

Pros
First thing scouts notice about Garrett is that he is an athletic freak. If his physical presence at 6'4", 274 pounds wasn't enough, Garrett adds speed and strength to the equation. At the NFL Combine he ran 4.64 40-yard dash (fifth among defensive linemen) and managed 33 reps on the bench press (tied for second). He even beat his already impressive Combine 40 time at the Texas A&M pro day with a time of 4.56 seconds. Everything about Garrett's physical makeup screams NFL-ready. 
Garrett is a pass rushing extraordinaire, and the thing that separates his pass disrupting abilities from other edge rushers is the variety of ways he can get in the backfield. With his size and speed, he can beat any offensive tackle on any given snap.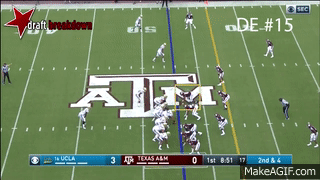 On this play Garrett shows off  the ability to make a move after his initial pass rush is stopped. He tries to beat the tackle to the outside, but eventually makes a quick spin move back towards the quarterback. The tackle desperately tries to hold back Garrett, but he makes a nice hit on the QB to disrupt his throw. 

There's no denying that Garrett's MO in terms of getting to the quarterback is the speed rush. He has an uncanny ability to time up snaps and beat offensive linemen off the ball. On the very first play against Auburn last season, Garrett burst out of his stance and easily gets a sack without any kind of obstacle in his way.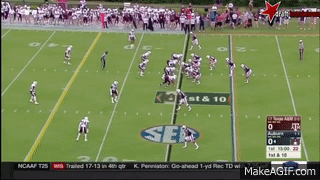 It's easy to see a player with Garrett's quickness as one dimensional, only being a speed-rusher, but that's not the case here. Not only is he able to get around offensive tackles, he can go right through them as well. On this play Garrett doesn't make any kind of special move on No. 68. He uses brute strength to separate himself and find a seam to get to the QB for a sack.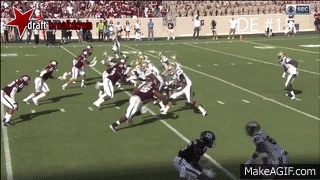 Garrett has a plethora of ways to get to the quarterback. In the NFL, he'll be going against tackles that play at a much higher level than he saw at times at Texas A&M. Luckily for him, he has all the means to be successful. 

Cons
As good as he is getting to the QB, Garrett could use some improvement in the running game. Against heavy run teams, like Alabama and LSU, he got caught up trying to get off the blocks and was unable to separate himself. There were times when teams would scheme away from Garrett, but there were still too many missed opportunities.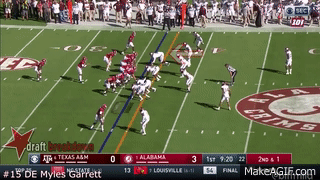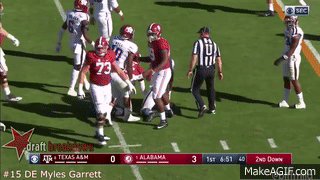 In these two plays against Alabama in 2016, Garrett shows his inability to make a play on the runner when the play goes to his side. Granted in the first play he's going up against O.J. Howard (rated the best tight end) and Cam Robinson (rated best offensive tackle) in the second play. Those are NFL-caliber guys he's facing and he didn't show much in terms of being able to at least threaten the running back in these plays. 

Scouts have come to question Garrett's work ethic, especially in his final season. Some are convinced he was taking plays off in order to stay healthy for the NFL, but NFL coaches want to see an aggressive playmaker, especially from one considered the best player in the draft. 
This play against LSU is just one example of what was seen as a growing trend for Garrett. He makes what seems like an amazing jump off the snap and gets into the backfield untouched. However, once the QB hands the ball off on the draw, Garrett literally just stops. He may have seen guard coming back to block him and feared he was going to block him low, but this shouldn't be an excuse. Garrett has to make some kind of effort to at least chase the runner. 

Verdict 
Garrett is as elite a pass rusher as one can get at this point in their career. He has some many ways of getting into he backfield and once he's there, he's a sure tackler that won't miss many, if any. His biggest issues is in the run game and his effort, but the potential is there to be a very good player for years to come. NFL.com gives him 7.63 grade, meaning it's almost a forgone conclusion he'll be an All-Pro player at some point in his career.
Best Fit
Let's be honest, there isn't a defense in the NFL that Garrett doesn't fit into. Defensive coordinators would love a guy called the biggest freak of the NFL Combine. Too bad only one team should have a real shot at him, and that's the Cleveland Browns with the first pick. 
Face it — the Browns are a mess at every level. This is a team that needs players at every single position, on both sides of the ball. So why not go best player available with the first pick and worry about the inevitable QB decision with their 12th overall pick? Pair Garrett with 2016 second-round pick Emmanual Ogbah, who had a solid rookie season, and the Browns have two solid edge rushers to work with for over a decade. 
Hue Jackson prefers Myles Garrett over QB at No. 1

"It's not even close between Garrett and Trubisky"

➡️ https://t.co/VCDCBRa86j pic.twitter.com/X8Pv3nzITQ

—

NFL

Network (@nflnetwork) April 16, 2017
Not everyone is convinced Garrett is going to go first in the draft, even though he should. NFL.com's Chad Reuter pegged UNC QB Mitchell Trubisky as the first overall selection to the Browns. Even ESPN's Adam Schefter says the front office is split between Garrett and Trubisky, so we have some real drama getting closer to Draft day. 
The Browns' issues at QB are well-documented, but Garrett is easily the best player in the draft. They can't afford to pass up on him for a QB. Even with Trubisky being the top rated passer in this draft, none of the signal callers instill confidence among NFL brass. The Browns can get a QB with the 12th pick and need to select Garrett No. 1, plan and simple. 
Edited by Jazmyn Brown, Bobby Murray.
SQuiz
Which Aggie was taken highest in the Draft?
Created 4/10/17
Ryan Tannehill
Von Miller
Jake Matthews
Mike Evans