James Guillory- USA Today
One of the most productive players in college football last year, Jones could end up being one of the best receivers from this class.
We have reached the end of our 2017 NFL Draft coverage. This week we examine top receivers. Today's candidate is East Carolina's Isaiah Jones.

College Career
Isaiah Jones might have the best pedigree of any wide receiver in this draft. His father, Robert Jones — a three-time Super Bowl winning linebacker for the Dallas Cowboys in the early 1990's — enjoyed 10 seasons in the NFL, registering over 700 tackles during his lengthy career. If that isn't enough, the younger Jones had a brother play wideout at Arizona, and his uncle is Jeff Blake, the one-time Pro Bowler and long-time journeyman NFL quarterback. 
Despite being surrounded by NFL royalty as a youngster, "Zay" Jones was able to carve out quite a name for himself. The East Carolina product snagged a FBS record 399 catches for over 4,200 yards and 23 TDs during his four years in purple and gold. His  2016 totals were video game-esque; 158 catches set a new single season mark for FBS and his 1,746 receiving yards were 17th all time. Those totals were enough to claim a first team All-American selection and secure a spot as a finalist for the Biletnikoff Award.
Pros

As evidenced by the fact that nobody in FBS has ever caught as many passes as Jones, it goes without saying that the young man has great hands. He shows great concentration by reeling in a ball that was thrown behind him on the out route. Without losing momentum, he pirouettes seamlessly, easily surpassing the line to gain on a pivotal third down.  
Not only can Jones make the short completions, but he can stretch the field as well.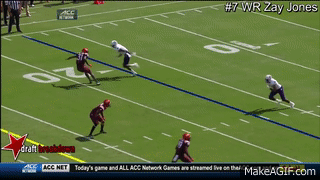 These two catches come from the same game, and in both, Jones tightropes the sideline while making highlight reel grabs. He's open even when he isn't because his phenomenal body control and hands allow him to catch anything within his catch radius.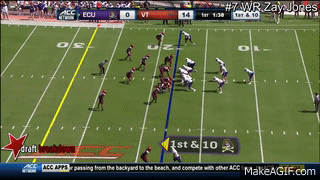 Not only can the Austin, Texas native split out wide, but he is deadly in the slot. Jones is the most polished route runner from this draft class, which allows him to line up across from anyone on any part of the field. Here he makes a sick stutter step with a head fake towards the out route before breaking inside for an easy TD on the post. That fake was so nasty that he broke the ankles of the unfortunate safety who was tasked with guarding him.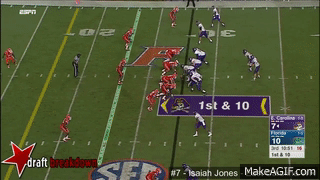 In addition to being nearly impossible to guard in man-to-man, Jones has a knack for finding soft spots in zone, especially over the middle. When watching the tape, he routinely makes himself available to his quarterback by settling into open spaces or running himself into free land. He does a good job of turning up the field after the catch, getting more YAC yards then he probably should given his size and speed.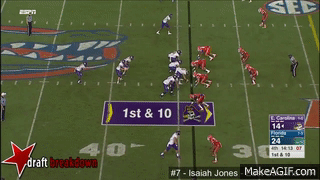 In addition to his considerable on-the-field talent, Jones put together a very nice combine performance. Despite most scouts expecting his athletic performance to be overshadowed by his game film, the 6'2" 202 pounder ran a 4.45 40-yard dash, put up 15 bench press reps, had the third best broad jump among WRs and had a higher vertical than combine darling Chris Godwin. The young man can do it all and should be able to contribute to an NFL team immediately. 
Cons
When I put on the full-game film for other players during this prospect review, it has been easy to compile a list of things the player needs to work on. Usually, I have a list of plays or shortcomings to choose from when analyzing what a player needs to improve on to be successful in the NFL. That was not the case with Zay Jones. 
The play below is maybe the only play in the two games of film that I watched on Jones where he didn't make an above average play on the ball. It comes against Florida's vaunted secondary when a poorly thrown out route became a 50-50 ball that was knocked down. Jones could have done a better job when using his body to box out the defender, and it was the only instance that I saw where his hands didn't catch a ball in his radius. 
The only other problem that arose was his blocking. The play below shows hesitation before making impact with the defender, which results in Jones never being able to engage with the defensive back.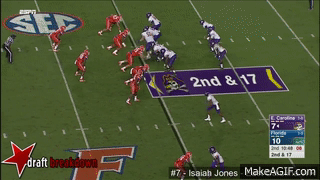 While blocking is very important for NFL receivers, pass catching is what most teams look for when bringing in new wideouts. As the chart below will show, Jones is rated ahead of some of the other top prospects in blocking ability. I wouldn't say stalk blocking is his strength, but it isn't really a weakness when compared to some of the other prospects in this draft.
The only other drawback I've encountered with Jones is an inability to separate from the top level corners in college. That could really hurt him in the NFL as he will be facing better athletes with a more refined skill level. Given his ability to adjust to the ball in the air, coupled with top-level hands and route running ability, Jones should be better equipped to deal with those deficiencies than most college receivers. 
Verdict
The top three receivers from this draft are all very special in their own ways; Corey Davis is the all-time receiving yards leader in FBS history, Mike Williams is a 6'4" behemoth who played on a National Championship team, and John Ross ran the fastest 40-yard dash time ever recorded at the combine. This is a special group. 
That said, Jones can hang with all three of them and deserves to be mentioned in that company. 
Pro Football Focus came up with a chart ranking the top prospective receivers for this draft. The top three were no surprise, but finding Jones and Dede Westbrook seems about right considering their production in college. 
Based on injury concerns for the top three receivers, Jones might actually be the safest selection of this group. I would have to include the East Carolina product in the discussion for top three receiver in this class and his grade should be at the end of the first round.
Best Fit
Any team can use a versatile player like Jones, who could fit in the slot or outside, but some teams are primed to grab him in the first round.
Detroit has gaping holes on defense which it should use its first round pick to plug, but the Lions have always liked drafting receivers in the first round. Jones would complete their receiving corps by putting a playmaker in the slot to go along with Matthew Stafford's high octane outside receivers — Golden Tate and Marvin Jones.
Oakland could use another young pass catcher to develop along with Derek Carr and Amari Cooper. The Stephen F. Austin High School product would be a good complement to the home run threat Cooper and his red zone specialist partner, Michael Crabtree. 
Seattle has struggled to move the ball for the last few years, and though it would behoove them to upgrade their offensive line, they would be a landing spot for the FBS reception king. Having a smooth route runner in the slot might keep Russell Wilson from getting whacked as much in the pocket and add years on the end of his career.
Kansas City hasn't moved the ball with enough consistency for an Andy Reid coached offense. Rookie star Tyreek Hill showed enough to be a legitimate deep threat, and putting Jones in the slot between him and veteran Jeremy Maclin would be a difficult cover for defenses. The 6'2" Jones would be a prospective target for Alex Smith in the red zone when TE Travis Kelce is doubled.
Pittsburgh is the team that NFL front offices should hope passes on Jones, who would immediately become the most talented player across from Antonio Brown. The Steelers have had great success coaching up young wideouts, and if they are able to put Jones in the same room as Brown, the league would be sorry. 
Edited by Jeremy Losak.
SQuiz
Whose all time FBS receptions record did Zay Jones break in 2016?
Created 4/25/17
Justin Hardy
Corey Davis
Ryan Broyles
Antonio Brown