Mark J. Rebilas-USA TODAY Sports
The Clemson standout has seen his draft stock dip slightly, but is still considered one of the best receivers in the NFL Draft.
Over the course of the weeks leading up to the 2017 NFL Draft, we will take a look at the top NFL prospects at each position. This week, we take a closer look at the receivers in this year's class. Today we look at Mike Williams out of Clemson. 
College Career
It's rare for a freshman to come in and see almost instant playing time, but that's what happened with Williams. During his freshman season, he played in 10 of the Tigers' games and started three of them, hauling in 20 catches for 316 yards and three touchdowns.
But his sophomore season was when Williams really broke out. He managed 57 catches for an astounding 1,030 yards and six touchdowns. Williams was named to the third All-ACC team that season. 
Working to build off a promising sophomore year that showed his star potential, Williams was met with a major setback. In Clemson's first game against Wofford, Williams caught a touchdown pass early in the first quarter. After making the catch, he hit his head on the goalpost, leading to a fractured neck which kept him out the rest of the season. 
After being cleared to play before the 2016 season, Williams looked to make up for lost time. His senior year, he caught 98 passes for 1,361 yards and 11 touchdowns. He finished the year 11th in the country in receiving yards and tied for 22nd in touchdowns. Williams was also named second-team Walter Camp All-American and first-team All-ACC. 
Pros
Williams has your prototypical NFL wide receiver size. At 6'4", 218 lbs., he has the ability to step onto the field from day one and be one of the bigger receivers in the league. It's what Williams does with his size that is going to make him so coveted on draft night. 
In the national title game against Alabama, Williams was able to show off his size and strength against the nation's top-ranked defense. He had eight catches for 94 yards and a touchdown, and seemed to make big plays down the stretch when it mattered most.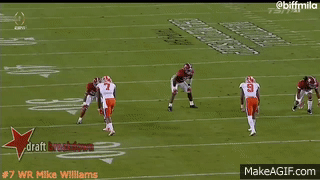 Williams has quick feet and the ability to get open without much straight ahead speed. In the clip above, Williams fakes a slant pattern before planting his foot and using a swim move on the corner that's right on his hip. The defender isn't able to keep his footing and Williams hauls in an easy pass in the flat. 

What makes Williams stand out from the rest of the receiving class is his ability to adjust to the ball in the air and come down with a catch.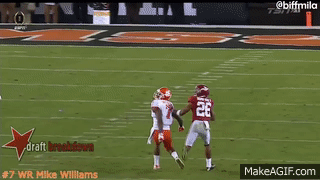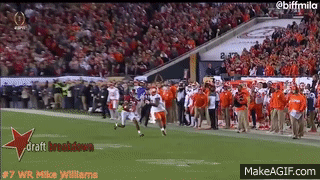 On both plays, the ball is thrown high enough so only Williams has the ability to come down with it. Even with a defender right on him, he's able to make the catch at the highest point and maintain concentration all the way to the ground to secure the catch. Clemson knew the kind of weapon they had and knew exactly how to utilize him and the NFL will do the same. 
Cons
Trying to find a part of the game that Williams doesn't do well is difficult. One area of concern that has come up is dropped passes. To be honest, I see Williams as one of the most sure-handed receivers in this class. In the second half of the season he had some issues with focusing on the ball all the way which lead to drops, but he made a living at Clemson making catches that not many receivers could make. 
His biggest issue that will keep him from reaching his full potential as a playmaker in the NFL is his speed. He ran a respectable 4.50 40-yard dash at his pro day, but didn't run at all at the combine. For his size, that's still pretty good speed, but at the NFL level, teams are worried he won't be able to gain the necessary separation to be a downfield threat. Williams isn't built for speed, but that doesn't erase the concern in many teams' minds. 

Best Fit
Right after the National Championship game, Williams was seen as the best receiver in this class, and maybe rightfully so. CBS Sports has him right now as the third-best receiver behind Central Michigan's Corey Davis and Washington's John Ross. The speed concerns have dropped him a bit, but he's tailor-made for the NFL. 
Buffalo is the first place that could potentially use a receiver.  The Bills ranked 31st in the NFL last season, averaging 203.1 receiving yards per game. Outside of a healthy Sammy Watkins, the Bills don't have a legitimate 1,000-yard receiving threat. Williams' skill set would go well alongside Watkins' deep threat ability. 
Philadelphia comes to mind next when needing a receiver. They have their quarterback in Carson Wentz and now it's time to give him some weapons. After starting 3-0 in 2016, the Eagles finished 4-9 in large part due not having a real wide receiver threat. Tight end Zach Ertz and running back Darren Sproles accounted for 30% of the Eagles' targets and 32% of the team's yards throw the air. Even with their big offseason addition of Alshon Jeffrey, they could use a receiver to give Wentz another target.

Baltimore is my pick to land Williams this year at No. 16. One, Buffalo and Philadelphia could easily pick both the other receivers before the Ravens get a chance, and two, because the Ravens need to strike it rich on the offensive end. In 2015, the Ravens drafted Breshad Perriman in the first round. Since then, he's only caught 33 passes for 499 yards. Granted, he's been hampered by injury, but the Ravens need a bonafide receiver to help QB Joe Flacco. 
Edited by Emily Berman, Coleman Gray.
SQuiz
What pick in the 2014 NFL Draft was DeAndre Hopkins?
Created 4/24/17
14th
9th
27th
22nd