Gesicki tore it up in Happy Valley but where will he end up next?
The Sports Quotient's annual Draft Preview series is back! Over the course of the eight weeks leading up to the 2018 NFL Draft, we will take a look at the top prospects at each position. This week, we dive into the tight end position. Today, we'll take a look at Mike Gesicki from Penn State.

College Career
Mike Gesicki was a standout three-sport athlete at Southern Regional High School in New Jersey. He excelled in volleyball, basketball, and football but ultimately decided to pursue football and chose Penn State in 2014. 
Over his first two seasons in Happy Valley, Gesicki saw action in 25 games while only starting nine. During that span, he totaled 239 yards on 24 catches with only one touchdown. It wasn't until his junior year that he really broke out as a big-time receiving threat. His last two seasons, Gesicki totaled 105 receptions for 1,347 yards and 14 touchdowns. He was also selected First-Team All-Big Ten by the media and Second-Team by the Big Ten coaches in 2017. 
Pros
Gesicki is a tremendous athlete thanks to his multi-sport background. That athleticism was on full display during the NFL Combine earlier this month. He was in the top two among tight ends in every single workout. His 4.54 40 time was the same as Oregon running back Royce Freeman and Georgia back Sony Michel, which just goes to show how fast Gesicki actually is. He also was tied for the highest vertical out of any position with a jump of 41.5 inches. 
Gesicki is an explosive athlete and he's able to show that on the field as well. 
In this play against Michigan, Gesicki looks more like a wide receiver than a tight end. Quarterback Trace McSorley gets pressured and just throws it downfield in the area of Gesicki. Even with two defenders all around him, Gesicki uses his incredible leaping ability to go up and grab the ball. 
This also shows how good his hands are. According to Pro Football Focus, Gesicki has a drop rate of 3.39, which is fourth lowest among all FBS tight ends. That comes on the fact that he only had two dropped passes on 59 targets in all of 2017. 
Any pass-catcher needs to have good body control, and Gesicki is no different. Along with his leaping ability, he is able to put himself in the right position to make a catch even in the air. In the play below against Ohio State, Gesicki is able to stop suddenly on an underthrown ball with a defender in the way. He moves his body in a way that puts the defender on his back and makes a great body catch. 

Cons
Tight ends may have drifted a bit from being equal parts pass catcher and blocker, but being balanced is still a coveted trait. Unfortunately, Gesicki is more slot receiver than tight end due to his liability in the run game. 
Some tight ends aren't seen as run blockers because they just weren't used that way, but Gesicki strictly can't run block. He's tentative to go out and make a block and has trouble keeping the defenders in front of him and away from the runner.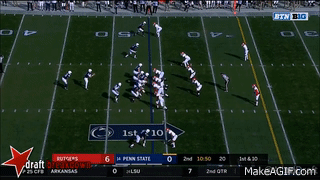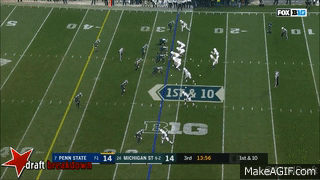 On the first play above, Gesicki is lined up just outside the right tackle off the line and on the snap is assigned with a down block on the incoming linebacker to create a seam for the running back. Gesicki isn't the one that initiates contact and braces for a block instead of making the block. The result his the linebacker hitting Gesicki and putting him on his back before making a tackle at the line of scrimmage.

The second play shown is just a disaster for Gesicki from start to finish. His first assignment is to block or at least chip the defensive end, neither of which Gesicki does. This forces the running back to take the toss further outside than originally intended. Gesicki tries to make up for his first missed block with an opportunity to take out two Spartan defenders but completely whiffs on that block as well. The result is the defensive end making a good play down the line and making a tackle for a short gain.
Gesicki will make a career in the NFL as a tremendous receiving tight end, but if he can't blossom as a run blocker too, it might not be as good as it could be. 
Verdict 
NFL.com's Mike Mayock has Gesicki as his third best tight end prospect. Gesicki is the most athletically gifted tight end in this draft no doubt, but every other top tight end prospect isn't too far behind. Each one can catch the ball at a high volume, but Gesicki falls behind in the run game. There isn't an O.J. Howard level tight end who can do everything. But the other tight ends ahead of Gesicki are serviceable blockers at the least. 
Meet Mike Gesicki 😳

📺: @heykayadams // @gmfb pic.twitter.com/NSErrwDQjs

—

NFL

Network (@nflnetwork) March 7, 2018
Best Fit
Teams are going to fall in love with Gesicki's athleticism and obviously for good reasons, but NFL teams know his limits. He has the potential to sneak into the back end of the first round to a team like Jacksonville or Philadelphia. But it's more likely he slips to the middle or late second round due to his blocking issues. Other teams that could use a pass-catching tight end are the New Orleans Saints, Baltimore Ravens, and even the Houston Texans.
Edited by Jazmyn Brown.
SQuiz
How many tight ends went in the first round in the 2017 draft?
Created 3/12/18
1
3
0
2