Perhaps the most polarizing player in this year's draft, Lamar Jackson looks to prove he's meant to play quarterback.
The Sports Quotient's annual Draft Preview series is back! Over the course of the eight weeks leading up to the 2018 NFL Draft, we will take a look at the top prospects at each position. This week it's time to focus on the game's most important position, quarterback. Today, we will be taking a closer look at Louisville signal-caller Lamar Jackson. 

College Career  
Jackson was a three-star prospect coming out of Boynton Beach High School in Florida. Not many prospects ranked that low get early playing time, but Jackson saw the field plenty his freshman year. He threw for 1,840 yards with 12 touchdowns and eight interceptions while appearing in 12 games with eight starts. Jackson also rushed for 960 yards and 11 touchdowns, which at the time was a school record. 
Jackson became a household name during his sophomore year. In the season opener against Charlotte, Jackson accounted for eight total touchdowns, including six through the air. He followed that up with a five-touchdown performance, this time four on the ground, the following week against Syracuse. All in all, Jackson lit it up in 2016. He finished the year in the top 20 in both passing yards (3,543) and rushing yards (1,571). On top of the yardage numbers, he added 51 total touchdowns (30 passing and 21 rushing). Jackson received a number of awards, which included the Heisman Trophy to go along with his consensus first-team All-American Honors. 
Coming back for his junior year, all eyes were on Louisville and Jackson. Despite the team not doing quite as well, Jackson still put up stellar numbers. He passed for 3,660 yards, 27 touchdowns, and 10 interceptions. His completion percentage improved from 56.2% to 59.1%. Jackson also ran for more yards (1,601) on fewer carries (232 verses 260) but had fewer rushing touchdowns (18). For the second year in a row, Jackson was named to the All-ACC first team, and he also finished third in Heisman voting. 
Pros
Nobody can stop talking about how explosive Jackson is with the ball in his hands. Over the course of his career at Louisville, he's gained 4,132 yards on the ground, which is 289 more yards than top running back prospect Saquon Barkley. It's not just his ability to pick up yards on the ground, but it's also Jackson's agility and speed that really impresses the scouts.
No play is ever dead with Jackson behind center. In this play against FSU he looks to make a throw, but when he spots an opening he takes it. My favorite part of this play is how easily he breaks down the linebacker coming up to attempt to stop him. Jackson makes a quick cut back to the inside and speeds past most of the defense. 
Aside from simply taking off and running, Jackson has an uncanny ability to avoid pressure to make a play. I've always been one to criticize Jackson and say he seemed to look to run instead of making a throw. Plays like this one show that that is not the case. 
On the back end of Jackson's dropback, he senses the defender coming on the blitz to the outside. He simply steps up in the pocket and keeps his eyes downfield. His sense of calm and poise is incredible. Instead of panicking and making an off-balance throw, Jackson sets his feet, squares his shoulders, and makes a perfect throw to lead his receiver for a touchdown. 
2017 was Jackson's best season from the pocket, as he completed 59% of his passes. From the games I watched, the targets that were most on target were simple shorter routes such as slants and curls. But he did make incredible strides in his ball placement down the field. 
This play is just a glimpse at the potential that Jackson can bring to the NFL. You could not ask for a better throw with better placement. The receiver is running a simple go route with a slight fade out. On the throw, he originally is facing the middle of the field. If Jackson were to throw towards the middle, the corner or safety could have made a play to break it up. Instead, Jackson throws to the outside shoulder where only his guy can get it and the pass falls right into the receiver's hands. 

As a passer, Jackson's biggest asset is his arm strength. Not only does arm strength equate to being able to throw the ball far down the field, but it also means a QB can muscle a ball into tight windows. Jackson might have the strongest arm in this class in terms of both aspects. Louisville ran a lot of slant patterns, and Jackson was able to put tons of velocity behind his throws to get it where it needed to be. 
While he did improve as a passer, Jackson still has a bit to go before he becomes an elite talent. 
Cons
During my preview of DeShone Kizer last year, I stated that Kizer will make one throw that will make your jaw drop and another throw that will leave you scratching your head the next. Jackson is similar in that way. He can make every throw you can ask of him, but his consistency is all over the map. 
This is a quick 'out' route and this is a play Jackson has to make. The tight end is wide open with plenty of room in front to pick up a first down. However, Jackson just turns and throws without really stepping into the throw and the ball goes wide. Not stepping into throws is an issue that will have to be hashed out at the next level, but with the right coaching, it should be fixed quickly. 
A bigger problem with Jackson is his decision-making. This past season it was hard to tell if the issue was with the receivers not running the right routes or Jackson just misreading the defense and making a bad throw. Against Mississippi State in the Tax Slayer Bowl, Jackson was far from his best.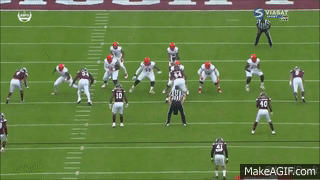 These two throws are baffling and for the same reasons. I have no idea who Jackson's intended target is on either interception. On the first play, he stares down both receivers and throws over the head of #5 while also under-throwing #9. There are five Mississippi State players nearby, and this ball should have never been thrown. 
On the second throw, it's more of the same. The inside receiver does a five-yard 'out' while the outside receiver does a 'go' route. The decision could have been a back-shoulder fade to the longer target that was again very under-thrown, or it was very behind the 'out' route. These are plays that Jackson normally makes, but he needs to be consistent in his decision-making. He can't get caught in-between because these are the results that happen. 
Many of Jackson's problems stem from his footwork and form. He tends to keep his feet together when staying in the pocket and doesn't step into his throws. While he has a great arm, only throwing with his arm instead of driving the ball with his legs will make the ball sail higher than intended. Footwork is one of the biggest problems with college QBs heading to the NFL, and that will be one of the first things an NFL team will work on during training camp. 
Verdict
Let me start by saying the notion that Jackson should be moved to wide receiver is absolutely absurd. He's far from a finished product, but he has the potential to make it in the NFL as a quarterback. Any team that drafts him should strictly be looking at him to be their QB of the future. 
Lamar Jackson has Tom Brady's vote of confidence. pic.twitter.com/oOoVqomNgO

— SportsCenter (@SportsCenter) April 12, 2018
Jackson is the closest thing to Michael Vick we've had in a long time. He's able to make explosive plays with his legs while also being able to rocket the ball down the field. Much like Vick, Jackson's biggest issues stem from his accuracy being very inconsistent. While a career 57% completion percentage isn't really anything to brag about, Jackson has made huge strides in his accuracy each year. His freshman year he only completed 54.7% of his passes, but this last year he raised that to 59%. If he continues his progression he could become the best quarterback to come out of this draft. 
Best Fit 

Jackson is strictly a quarterback prospect, but how much do NFL teams value his ability to start sooner rather than later? If an NFL team thinks he can make an immediate impact and is willing to tailor an offense to his skill-set, then he can go early. The most likely destinations in this scenario would be the Miami Dolphins (11th), Buffalo Bills (12th), or Arizona Cardinals (15th). 
I don't expect the Bills to make much of a play for Jackson. Tyrod Taylor has a similar skill set as Jackson, but Taylor was benched during the season and eventually released this offseason. Expect GM Brandon Beane and coach Sean McDermott to look for a more traditional signal caller. 
If the Dolphins stay put with the 11th pick, Jackson could be an interesting option. Ryan Tannehill is still on the roster until 2020, but there have been rumors about the team looking for his replacement. Jackson would provide a much-needed spark for a depleted offense.  
The Cardinals signed both Sam Bradford and Mike Glennon this offseason, but neither instill much confidence in leading the team. Jackson could learn through training camp and the first few weeks before finally taking the reins. However, the Cardinals could potentially move up in the draft order to take one of the other higher rated QBs. 
Which team is a better fit for Lamar Jackson: Saints or Patriots?

(via @nflnetwork) pic.twitter.com/ve2myLkWRy

—

NFL

(@

NFL

) April 12, 2018
The more likely scenario is that Jackson gets picked up later in the first round by a team with an aging superstar QB. The Los Angeles Chargers (17th), New Orleans Saints (27th), and even the New England Patriots (23rd and 31st) are potential landing spots. These three teams have great coaching, great athletes at other positions, and future Hall of Fame quarterbacks from whom he can learn. Don't be surprised if these teams take Jackson as their heir into a new era.  
Edited by Jazmyn Brown, David Kaptzan.
SQuiz
Who was the first Louisville QB to ever be taken in the draft?
Created 4/9/18
Teddy Bridgewater
Browning Nagle
Dean May
Johnny Unitas