In football today, there is a dearth of world-class center-backs. This generation will change all that.
Just a decade ago, there was an abundance of world-class defenders. Maldini. Terry. Puyol. Nesta. Cannavaro. Stam. The list goes on and on, with each and every name evoking images of impenetrable, no-nonsense defending. Center-back pairings like Vidic-Ferdinand and Terry-Carvalho were just as intimidating to read off a team sheet as Neymar-Messi-Suarez is today. 
But those days are long gone, and defending in football seems to have declined all across Europe (only a few teams like Atlético Madrid and Juventus can truly pride themselves on their defensive solidity). This is in large part due to the emergence of Guardiola's magnificent Barcelona sides.
That continental obsession with attacking football has waned, but the vestiges are still there. For instance, there's a dearth of world-class defenders at the moment, and it's not surprising when almost every center-half these days is expected to play out from the back.
That being said, it is exhilarating to see Jerome Boateng drill 40-yard passes that even Xavi would drool at. And because the rising generation of young defenders have developed with this emphasis, I have hope that they will reach the level of Maldini and Terry (okay maybe not Maldini) all the while maintaining their class on the ball. 
These are the young talents that inspire this hope:
Aymeric Laporte (Athletic Bilbao - 22)
Born on May 27, 1994 in Agen, France, Aymeric Laporte was born just a year before me. Except his release clause is a whopping £52m whereas mine is a D in Macroeconomics. Although he's at a somewhat smaller club in Athletic, the young Frenchman's name may be familiar to you simply because of how often he's linked to teams like Barcelona and Manchester City.
At just 22 years old, Laporte has already showcased every attribute needed to become a world-class defender. He's strong, confident on the ball, and reads the game exceptionally well. And in accordance with the Bilbao way, Laporte is extremely aggressive which perfectly complements his super tackling ability. 
Don't be surprised when PSG or City splash £30M on Laporte in a few years.
Raphael Varane (Real Madrid - 23)
After one of the most impressive El Clasico debuts ever, Raphael Varane became the world's most promising young defender overnight. But such is football that the 23-year-old Frenchman declined into mediocrity as quickly as he rose to stardom. 

A few terrible performances, most notably a 4-0 league loss to Atlético, sent Varane to the bench, and Pepe's insanely good form ensured he would stay there. But Varane has plenty of time to improve his positional discipline and tactical awareness. He's an absurd physical specimen (he outpaced Messi on his debut) and his technical skills are worthy of the Real Madrid shirt.
This clip says it all. Center-backs are definitely more skillful than we give them credit for, but even Blaise Matuidi couldn't hold back how impressed he was.
John Stones (Manchester City - 21)
Probably the most polarizing name on this list, John Stones became the second-most expensive defender ever by joining Manchester City for £47.5M. That ridiculous price tag, coupled with his defiant attitude and love of dribbling, made the young Englishman public enemy number one for a few months. Nobody would have been surprised if his development stalled. But it didn't. 
On the contrary, John Stones has hit the ground running under new boss Pep Guardiola. His superb passing ability was always going to improve in a Pep team, but his defending fundamentals have refined as well. Confidence plays a HUGE part in a defender's decision making and execution, and Pep has instilled plenty of that in not only Stones, but also Raheem Sterling and Iheanacho.
Love him or hate him, England fans can't wait to see him represent the Three Lions.
Marquinhos (

PSG

- 22)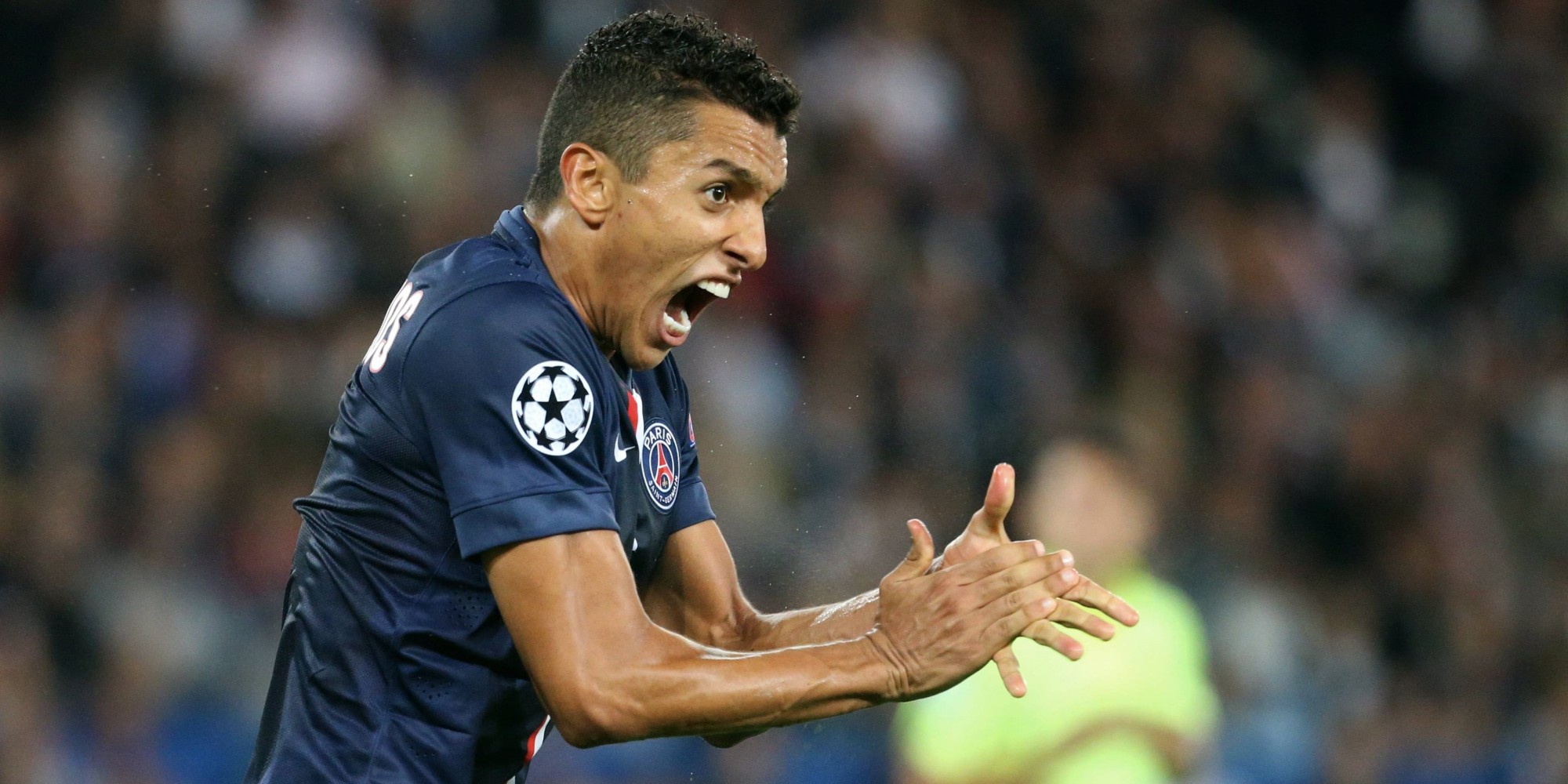 By virtue of playing in an utterly dominant Paris Saint-Germain team, Marquinhos tends to fly under the radar when it comes to top young talents. Before buying Samuel Umtiti from Lyon, Barcelona tried again and again to pry Marquinhos from PSG's hands, and they will probably never stop.
What the young Brazilian lacks in physical frame he makes up for in pure, unadulterated athleticism. The image above shows his reaction to this absurd, last-ditch block he made against Barcelona in the Champions League. Although Marquinhos has a long way to go to reach teammate Thiago Silva's level, his reading of the game and tackling ability are highly rated. 
David Luiz leaving for Chelsea means Marquinhos will stay at PSG. But rumors suggest that Barcelona is the club of his dreams, so keeping him will be one of PSG's most difficult challenges in the seasons to come.
Honorable mentions: 
Joshua Kimmich, Kurt Zouma, Samuel Umtiti, Romagnoli, Eric Bailly, Daniele Rugani
Edited by Emily Berman, Coleman Gray.
SQuiz
From what club did Gary Cahill join Chelsea?
Created 10/12/16
Bolton
Aston Villa
West Ham
Southampton