The best team in England.
The dust has finally settled following an incredible season of Premier League football. Three clubs were relegated to the Championship, and one club won the first top-division title in their 132-year history. Now Lucas Morel and I reflect on our Teams Of The Season: 11 players whose performances stood out to us more than all the others. 
Lucas's
TOTS

:


Kasper Schmeichel

Bellerín - Alderweireld - Morgan - Cresswell

Kanté

Mahrez - Payet- Özil

Vardy - Kane


Goalkeeper
Though both Arsenal's Petr Cech and Manchester United's David de Gea both had fantastic seasons, Leicester City's Kasper Schmeichel was the most impressive of all the Premier League's shot-stoppers this season. The Danish international was fifth in saves (100) and second in clean sheets (15), but perhaps the most impressive aspect of his performance was his reliability. The Foxes won the title by ten points, yes, but they did so by winning an astounding 14 games by only one goal. Schmeichel was called upon to preserve numerous tight leads, and his admirable handling of this responsibility really set him apart this campaign.

Left Back
Few people saw West Ham's 2015-16 revolution coming, yet the Hammers somehow managed to finish in seventh place, a mere four points behind fourth-place finisher Manchester City. Much of the praise for this surprise season should be given to English left back Aaron Cresswell. The 26-year-old contributed notably at both ends of the pitch, helping his team keep eleven clean sheets this season while also delivering the fifth-most crosses of any defender (125) and tying for third among defenders in total assists (4). West Ham will be disappointed to have missed out on the Champions League by such a slim margin, but knowing they have the league's best left back should provide some consolation.

Center Back 
We have already acknowledged the remarkable net-minding ability of Kasper Schmeichel, but his teammate Wes Morgan was an equally important player for the Foxes this season. While he did not put up jaw-dropping numbers, the Jamaican's consistency was unparalleled. Morgan started every single one of Leicester's 38 league games this campaign, marshaling the heart of the Leicester defense through many a close encounter. Not to mention, his clutch game-winning goal against Southampton on April 3rd was one of the truly defining moments of the club's odds-defying title run. On the whole, Morgan is a true embodiment of the age-old saying, "defense wins championships."

Center Back
Oh, Tottenham. Up until their utterly terrible 5-1 loss away to Newcastle on the season's final day, a debacle that cost the club second-place bragging rights in the league, the Spurs' defense was considered by many to be practically impenetrable. They ended the season tied with Manchester United for the fewest goals conceded (35), and would have topped the category had the Newcastle game resulted in a friendlier scoreline. However, this anomaly aside, center back Toby Alderweireld was without question one of the league's best defenders this season.
Like Cresswell, the Belgian was a valuable asset both defensively and going forward. In addition to leading the Spurs to 13 clean sheets, the center back finished third in the league in total touches by a defender (2700) and he also tallied two assists. Newcastle clearly made Tottenham appear vulnerable in their final match, but one poor game should not detract from the stellar play Alderweireld exhibited over the course of the rest of the season.

Right Back
For the past 10 seasons, the question of "who is Arsenal's fastest player?" always had one answer: winger Theo Walcott. However, there appears to be a new sheriff in town. Speedy right back Héctor Bellerín might be the fastest player in the Premier League, and he put that pace to good use in 2015-16. 
The 21-year-old took over the Arsenal starting right back spot early on and did not look back, starting in 36 league games for the London side. Tied for the league lead in assists by a defender (five), the Spaniard was a force to be reckoned with on the right touchline all season long. Even when he did occasionally find himself caught out of position, Bellerín was almost always able to run down the opposing player and make a textbook tackle to recover. FC Barcelona apparently wants him desperately, but Arsenal would be absolutely foolish to part with their fleet-footed wunderkind.
Central Midfielder
Much has been made of Leicester City's shocking dominance on both the offensive and defensive fronts, but the true engine of the club this season was their fearless French midfielder, N'Golo Kanté. Practically no one knew his name prior to the 2015-16 campaign, as his time at Caen in the French Ligue 1 drew little to no acclaim, and yet he is now one of the most sought-after players in the wild world of transfers. Based on his outstanding performance, it's hard to question his newfound fame. 
The 25-year-old facilitated the success of his teammates on both ends of the pitch by being a possession machine in the middle of the park. Finishing the season first among all players in the Premier league in tackles (218), Kanté worked tirelessly to ensure that his team possessed the ball as much as possible. He also registered a respectable four assists to boot. You can't score if you don't have the ball, and thanks to Kanté, Leicester had the ball a lot.

Attacking Midfielder
29-year-old Dimitri Payet had quite the first season in the Premier League. The Frenchman proved invaluable to the Hammers this year as a pivot in their offensive scheme, a deviously-dribbling, tactfully-passing conduit for their offense to run through. His 12 assists were third-most in the league, and among his nine league goals were some truly stunning free kicks. Without the attacking midfielder's influence, West Ham would have been nowhere near the top four at season's end.


Brian's
TOTS

:

David de Gea

Bellerín - Alderweireld - Morgan - Fuchs

Kanté

Mahrez - Alli - Özil

Vardy - Kane




Goalkeeper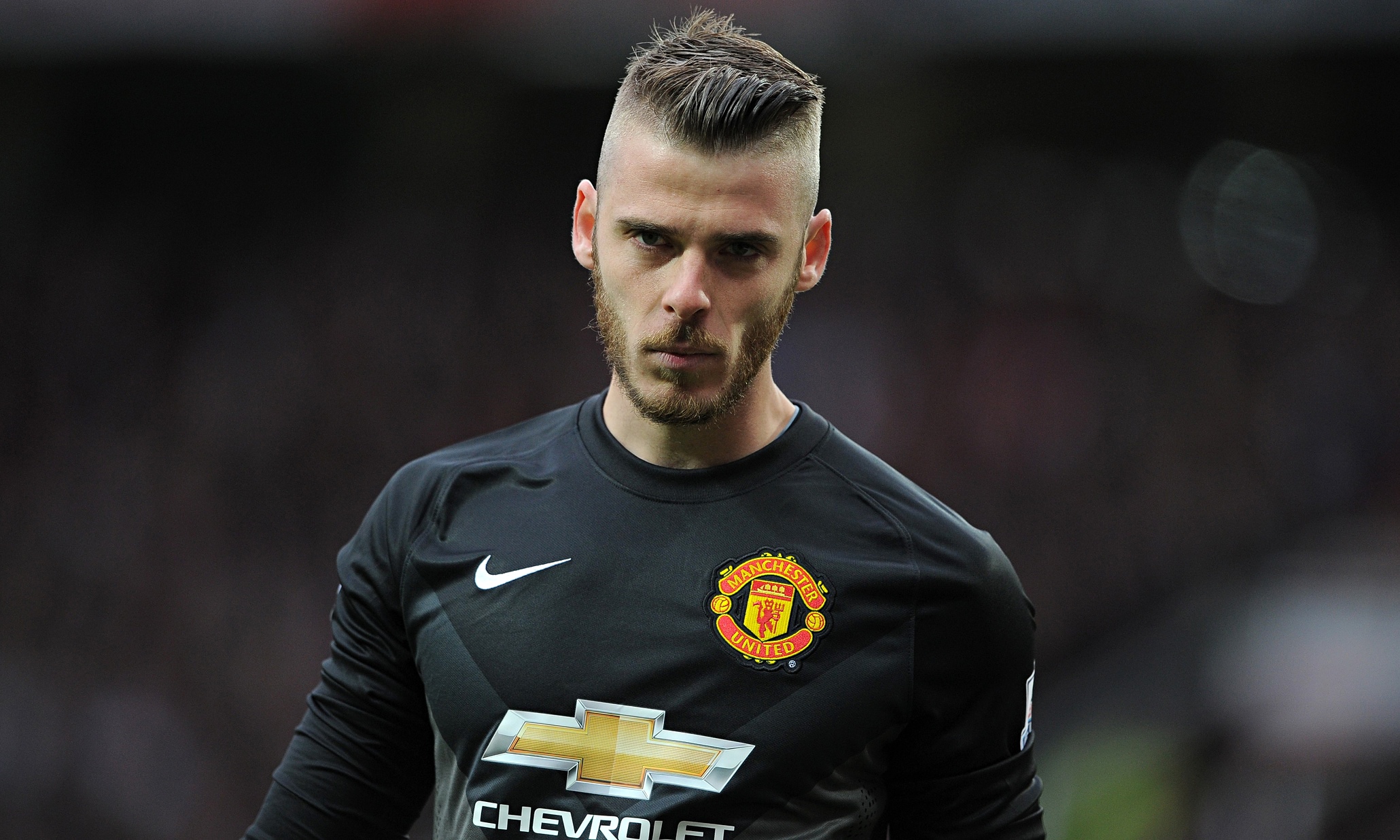 For the past two seasons, David de Gea has been the saving grace for a couple of the worst Manchester United teams in decades, yet a paperwork error was all that kept him at Old Trafford. As it turned out, this worked out perfectly for both United and Real Madrid, whose Keylor Navas developed into possibly the best keeper in Europe.
Back to England… de Gea is the main man in Manchester. The Spanish keeper makes a highlight-reel save almost every game, and he's been doing that consistently for more than two seasons now. Compared to the 25-year-old's performance last season, he wasn't as spectacular this campaign, but the quality of his saves remained at a world-class high. 
De Gea deserves TOTS honors over Leicester's Kasper Schmeichel by virtue of his top-class distribution. The Danish keeper may have more catches, but he also played 360 more minutes than de Gea did. Although the primary cause of Schmeichel's poor distribution is Leicester's long-ball strategy (he recorded the most passes into the final third in the Premier League), David de Gea truly is one of the best passing keepers in Europe, alongside the likes of Neuer and ter Stegen. For this reason alone, David de Gea ranks ever so slightly above Leicester's big Dane.




Left Back
Leicester was always going to dominate Team of the Season lists, but Austrian left back Christian Fuchs may have been unfairly overshadowed by teammates Vardy and Mahrez. Danny Rose beat out the former Schalke defender in the PFA TOTS, but Fuchs has been an ever-present stalwart in Leicester's back four. 
Tottenham conceded less goals, but Fuchs elevates himself above the English left-back with the world-class moments he produced going forward. Rose also had a decent season going forward with three assists compared to Fuchs's four, but the latter had to pick his attacking moments carefully with Leicester, whose successful season hinged on their full-backs staying back to defend. The Spurs, on the other hand, encourage their full-backs to constantly bomb forward, yet Rose still managed fewer assists.
And here's the best of Fuchs's lot—a perfectly weighted pass to Jamie Vardy that would make Lionel Messi blush. Who would have ever guessed that a member of this year's Leicester squad would break the Premier League's consecutive games goal-scoring record (11).
Attacking Midfielder
It's difficult for a Premier League TOTS to leave out 20-year-old Dele Alli, who scored 10 goals and logged 9 assists in his debut season. The young English talent found the right combination of skill, aggression, and runs into the box that made him an indispensable cog on the team with the most goals scored in England. 
West Ham's Dimitri Payet, who scored 9 and assisted 12, certainly has the advantage in terms of free-kicks and set-piece delivery. But the Frenchmen has not always made an impact consistently during open play, whereas physically aggressive players like Alli seem to always leave their mark on the game. 
Objectively, it's nigh impossible to distinguish between Alli and Payet. But for me, the fact that the former was just 19 when this season began makes Alli's performances more impressive. What's certain is that both players have some of the most flair in the league. They're a joy to watch week after week, and Premier League fans are delighted to have them.
And honestly, a goal this beautiful is deserving of this award.
(stats courtesy of foxsports.com)

Edited by David Kaptzan.
SQuiz
From which Premier League club did Leicester buy Robert Huth?
Created 5/31/16
Stoke City
West Brom
Swansea City
Southampton