The English FA need to go all-in on Arsenal's manager.
According to the Telegraph, the English FA are hoping to open negotiations with Arsenal's Arsene Wenger to succeed Roy Hodgson, who resigned as national manager immediately following England's humiliating 2-1 loss to Iceland. To recover from the most embarrassing loss in English history, the FA need a world-class manager, and that man is Wenger.
The position is one of world football's biggest hot seats, so much so that Gareth Southgate, who led the U-21 team to an unbeaten European qualifying record, announced to the media that he had no interest in replacing Hodgson as senior manager. But Arsene Wenger has managed Arsenal for two decades and possesses the qualities needed to survive the alligator pit that consumed the likes of Fabio Capello. Here are the biggest reasons why Wenger should be the FA's top target for England manager.
Experience
Right from the start, Hodgson was constantly questioned for every decision he made―rightly so as it turns out―due to his credentials consisting of a Europa League Final run with Fulham and a disastrous season with Liverpool. The negativity surrounding England's team is almost palpable, so giving fans or the media any reason to be cynical is the spark of an inevitable implosion. Wenger, on the other hand, transformed the Premier League with his methods, albeit a long time ago, and earned an almost universal respect in the footballing world. The mood surrounding Wenger's appointment would be one of excitement rather than pessimism. 
Furthermore, Arsene Wenger has exactly the sort of calm aura that would alleviate some of the massive pressure on this young team's shoulders. Wenger's experience would bring a much-needed level of discipline and tactical organization to the England camp. Not to mention the French manager understands better than anyone how to safely navigate the English media and footballing culture. Although the Gunners are eerily similar to England in the way they fall apart mentally, the pressure on Wenger and his players at Arsenal to win trophies is much bigger.
Attacking Football
If there's one thing that Arsene Wenger's appointment would guarantee, it's entertaining, attacking football. After a dreadfully boring Euro campaign under Roy Hodgson, England fans would love to see the fast-paced, free-flowing football they know the players are capable of. Pragmatic, defensive coaches like Sam Allardyce might be the safer choice for manager, but for once, England should crash out of a major tournament kicking and screaming, not with a whimper like they did against Iceland. 
The English squad boasts a diverse range of attacking talent like Sterling, Ross Barkley, Dele Alli, Adam Lallana, Sturridge, etc. Arsene Wenger would get the most out of these players, especially with such high-energy full-backs like Danny Rose, Kyle Walker, and Nathaniel Clyne at his disposal. One of England's biggest issues at the Euros was their slow build-up play and lack of a clear gameplan. Wenger subscribes to one philosophy, and that consistency would hugely benefit an English team in disarray.
Young Talent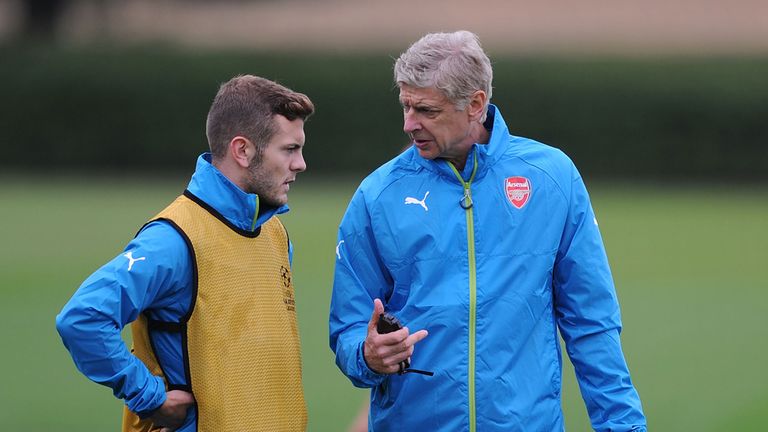 Another reason why Wenger is an obvious candidate for England manager is his experience with developing and incorporating young talent into his team. He already has the likes of Gibbs, Oxlade-Chamberlain, Walcott, Wilshere, and Calum Chambers under his wing at Arsenal. England's 2016 Euro squad was by far the youngest in recent times, and even Tottenham's Harry Kane, Eric Dier, and Dele Alli would relish a chance to work under Wenger's tutelage. 
Unlike José Mourinho, who is likely to take the England job within the next decade, Wenger has a consistent history of investing in youth and doing so successfully. Not only would he manage the senior team, Wenger would also work to improve the entire English youth system and fix a seemingly ubiquitous issue with attitude.
The biggest problem for the English FA is how essential Arsene Wenger is to Arsenal. After finishing runners-up in the 2015/16 season to Leicester, the Frenchman still has a point to prove before he leaves the Emirates and has his statue built. But after 20 years of Wenger's management come August, change at Arsenal is inevitable, and the FA would do well to acquire his signature a year or two before the 2018 World Cup in Russia. After a painful period of hiring English managers, there is no better foreign manager for the England job than Arsene Wenger.
Edited by Jeremy Losak, Peyten Maki.
SQuiz
How many consecutive years of Champions League football did Wenger reach?
Created 7/8/16
18
13
11
20