0
Soccer
This Summer's Signings Have Elevated Arsenal To Title Favorites, But The Foundation Was Already There
by
30 August 2016, 3:00 PM
Even after conceding four goals at home on opening day, Arsenal fans should be more optimistic than they've ever been.
After more than a decade, Arsenal's unwavering failure to challenge for the Premier League title has become one of the biggest self-fulfilling prophecies in football. The way they falter season after season is so consistent that it's been broken down into a science: a school of thought that even Aaron Ramsey's barber subscribes to (@TheOddsBible)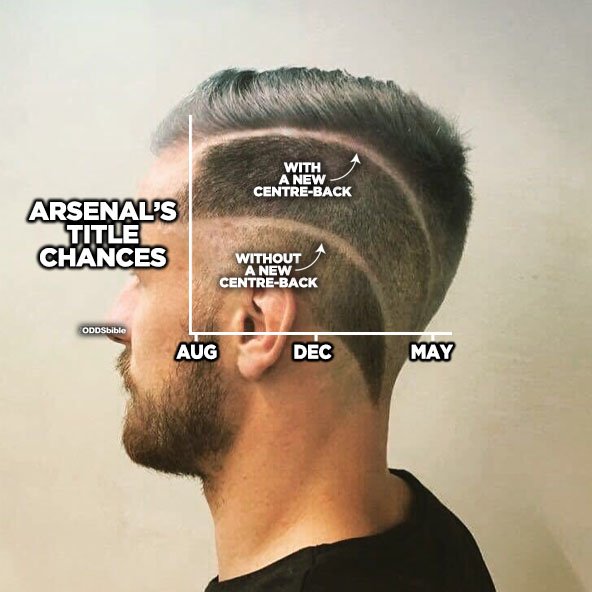 But while some things never seem to change―such as their remarkable penchant for coming up one goal short of greatness (away at Monaco, away at Bayern, home to Liverpool on opening day)―there have been subtle yet significant improvements in the past few seasons, not least of which was their 2nd place finish, that will earn Arsenal a historic Premier League title. 
A Rock-Solid Defense
Some football fans are more impartial than others, but one bias that nearly everyone is guilty of is a selective memory. Big defeats in high-profile matches are particularly hard to forget, and such capitulations as the 6-3 defeat to City, 6-0 to Chelsea, and 5-1 to Liverpool from three seasons ago quickly come to mind. 
And although Arsenal collapsed more than a few times last season, the stats show that Wenger's side have actually had the best and most consistent defense in recent years. Even in the 2013-14 season, during which the aforementioned 6-0 and 5-1 occurred, Wojchiech Szczesny shared the Golden Glove award with Petr Cech for their 16 clean sheets.
23 - Only Arsenal (27) & Man Utd (25) have kept more PL clean sheets than @WBA (23) since Tony Pulis took charge in Jan 2015. Organised.

— OptaJoe (@OptaJoe) August 28, 2016
When you consider Cech's arrival from Chelsea, the rise of Nacho Monreal and Hector Bellerin (PFA's right-back of the season), and the now fully developed partnership between Mertesacker and Laurent Koscielny, it should come as no surprise that Arsenal statistically have the best defense in England. 
Needless to say, a top-class back five is essential to winning any league. And now with the arrival of Mustafi, the third most expensive center-back in history, Arsenal won't have to sacrifice their defensive solidity during injuries with a hot-headed Gabriel or young Rob Holding (Calum Chambers has been loaned to Middlebrough). The pieces to a title-winning defense were already there, but now Arsene has a replacement if one gets lost.
Big-Game Performances
The turning point for Arsenal in this regard was their memorable 2-0 victory at the Etihad several seasons ago. Even with the diminutive Santi Cazorla playing in central midfield, the Gunners put in a clinical counter-attacking performance that shocked fans and pundits everywhere. And the level of discipline and incisiveness they displayed that day was not a one-off either. 
Last season, Arsenal bested Manchester United (3-0), Liverpool (4-1), Leicester (5-2 and 2-1), and City (2-1) in impressive style. With the exception of Chelsea and a humiliating 3-2 defeat to a young United side at Old Trafford, the Gunners have either beaten or drawn all of the big boys in England. A far cry from the side that lost 6-3, 5-1, and 6-0 three seasons ago, and an essential change of pace for any title challenge.
New Attacking Options
Many rumors suggest that Antoine Griezmann was the one that got away this summer and his arrival at the Emirates would've blasted Arsenal to the tippy-top of prediction charts. But alas, Lukaku did not rejoin Chelsea, who then refused to sell Diego Costa to Atlético, who then refused to sell Griezmann. 
Consequently, Arsenal are left with £17.1M rated Lucas Perez, a 27-year-old striker from Deportivo La Coruna. In the prime of his career, the Spaniard scored 17 goals and bagged 8 assists in 35 appearances last season. Everyone, Perez especially, knows that he was behind Griezmann, Vardy, and Lacazette on Wenger's striker shopping list. But that should only motivate him more to prove himself at one of the biggest clubs in Europe. 
And now for the controversial bit: I believe Perez will be enough to propel Arsenal to the championship. He will not only replace Giroud during his inevitable dry runs, but also offer a completely different option with his speed on the counter. Sanchez and Walcott haven't worked in the center-forward position, so Arsenal badly need a striker who can finish (unlike Welbeck) and make runs in behind. Perez won't come close to 25 goals, but Sanchez, Ramsey, Welbeck, and Walcott can all pitch in enough goals to make up for it.
Over the past few seasons, Arsenal have gradually and steadily developed the hallmark attributes of a true title contender, not least of which is named Petr Cech, the first world-class Arsenal keeper since Jens Lehmann. But just as a Pikachu needs a Thunder Stone to evolve into Raichu, Arsenal fans have been crying out for Arsene "Ash Ketchum" Wenger to let go of the past, break the bank, and take the final step to transform his team. 
And this summer, it seems Wenger has finally answered the Emirates' prayers (that's why it's always so quiet). In addition to Granit Xhaka (£30M), the recent deals for Lucas Perez (£17.1M) and Shkodran Mustafi (£35M) have put Arsenal at a grand total of £90M, 3rd behind the Manchester clubs for most money spent. The big money deals for Sanchez and Özil were isolated incidents, but now it's indisputable that Wenger has well and truly joined the big boys in terms of summer spending.
But as Premier League fans know better than anyone after last season, buying big-name, expensive players is NOT what makes championship winning sides. However, after closely examining the Gunners these past few seasons, it's clear that they have all of the same attributes that propelled Leicester City to a remarkable Premier League title.

Edited by Justin Peroff, Kat Johansen.
SQuiz
Who is the most expensive defender in history?
Created 8/29/16
John Stones
Rio Ferdinand
David Luiz
Fabio Cannavaro